NASHVILLE, TN — Nashville will hold a special ceremony to unveil the U.S. Postal Service's stamp honoring the late Representative John R. Lewis.  The ceremony will take place Thursday, August 24, 2023, at 10 a.m., in the Lewis-Scruggs Conference Center on the campus of American Baptist College, located at 1800 Baptist World Center Drive.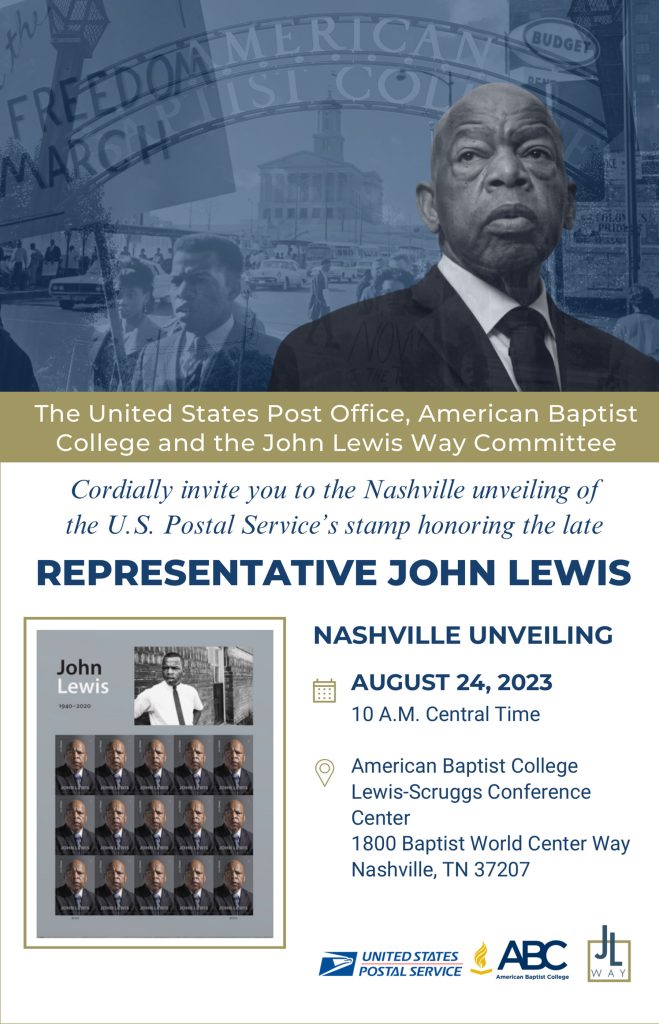 The United States Postal Service, the Rep. John Lewis Way Committee, Phi Beta Sigma Fraternity, and host American Baptist College will partner to conduct the unveiling.
"Rep. Lewis came to American Baptist College as a 17-year -old teenager and, by his own words, was molded at this institution," said Dr. Forrest Harris, president of American Baptist College. "As his alma mater, we are proud to celebrate his legacy as we unveil this stamp."
The stamp was officially released on July 21. It is a Forever® stamp, with a single cost of 66 cents, and will always be equal in value to the current First Class Mail® one-ounce price, according to the Postal Service.
The stamp's art director is Derry Noyes.
"We continue to lift Rep. Lewis for the work he did in Nashville and beyond," said Council Lady-at-Large Zufat Suara, chair of the John Lewis Way Committee. "We owe him a great debt for his outstanding service and sacrifice to this city and the nation."
"With this stamp, the U.S. Postal Service celebrates the life and legacy of a civil rights giant," said former State Senator Brenda Gilmore, chair of the unveiling event and the John Lewis Way Committee annual march. "Rep. Lewis was known as the conscious of Congress and devoted his life to equality and justice for all Americans."
Rep. Lewis spent more than 30 years in Congress, continuously defending and building on key civil rights gains that he helped to achieve in the 1960s, when he was a student at American Baptist College. After graduating from ABC in 1961 and moving to Atlanta, Rep. Lewis returned to Nashville and earned a degree from Fisk University. ABC and Fisk are two of Nashville's four Historically Black Colleges and Universities, along with Tennessee State University and Meharry Medical College
Rep. Lewis was a key figure in some of the most pivotal moments of the civil rights movement, including the Woolworths sit-ins in Nashville, and was arrested 45 times throughout his life. For his work toward justice and civil rights, Rep. Lewis was awarded the Presidential Medal of Freedom, the nation's highest civilian honor, by President Barack Obama in 2010.
The unveiling at American Baptist College is free and open to the public.