By Logan Langlois
NASHVILLE, TN — Self-built, from the truck to the business, Chicken Shack Express continues to serve Nashville their "famous Smack Ya Mama Chicken" through another Music City summer. With founder, owner, and operator Kenyatta Pumphery and his wife Debbie heading the Chicken Shack food trucks course, the two plan on continuing to serve signature 'Smack Ya Mama Chicken' that, according to Kenyatta, Debbie jokes would have been what "made Colonel Sanders a general." The secret recipe is one that had been used in his family for "probably 30 years", before being passed down to Kenyatta himself.
The Chicken Shack's signature 'Smack Ya Mama' chicken is, as well as the name, was originally created by Debbie's uncle, someone that Kenyatte actually knew before meeting Debbie, about six months into Kenyatte being in business. "Her uncle Wayne called me one night [and said], 'I got something new kid … I've been in the laboratory!'" Said Kenyatta.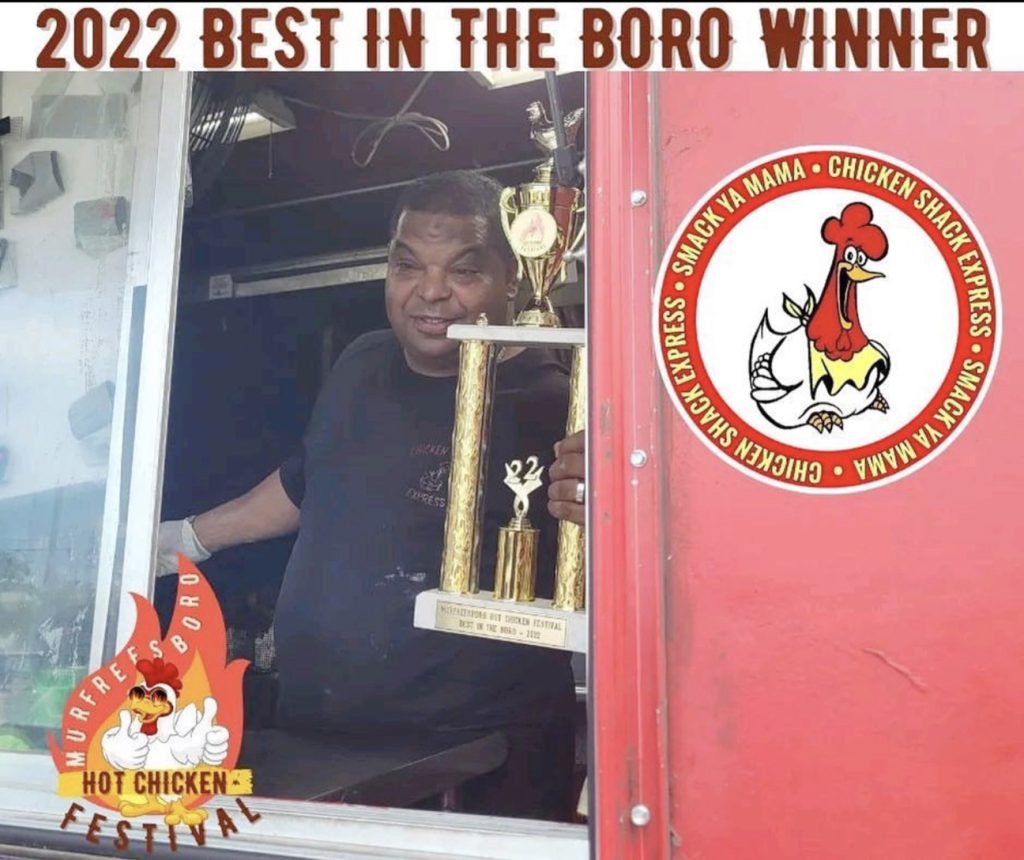 The next day Kenyatta would call Wayne early in the morning to receive instructions on how to mix up Wayne's brand-new recipe and sold it to a dedicated customer who bought about 30 pieces of Cajun chicken every weekend. From there, Kenyatta would watch 'Smack Ya Mamma' take off and as he says it "became king."
A veteran of the food business after having owned several different restaurants prior to Chicken Shack's opening, Kenyatta knew exactly what he wanted when he began conceptualizing Chicken Shack, right down to the atmosphere he wanted the name to convey.
"I had this vision of a little hole-in-the-wall place, with nice music playin', people were just hangin' out to eat chicken and havin' a good time," said Kenyatta.
He went on to say that he finally decided to become his own boss during the transition between the Bush and Obama presidencies, America's economy was in a recession, and he felt as if he had been betting on businesses run by other people long enough.
"If I'm gonna bet on somebody I'd rather bet on myself. Bet on the world didn't do me any favors so, I wanted to be free, I thought I could do it," Kenyetta said, with a kind of chuckle while looking back on the first days of the Chicken Shack. "If you don't jump off the bridge you don't know whether you can swim back to shore or not."
Not to imply that Kanyetta immediately left his job before Chicken Shack immediately, still balancing his work schedule with time cooking and his previous employers at Nissan, to whom he continues to serve chicken today. Something which he credited as giving him the time and freedom to create different flavors and recipes at his own pace while also having the security he needed to ensure that his family was also taken care of.
"It was a way of jumping off the bridge and having a net," he said, continuing his analogy from earlier.
When first kicking off Chicken Shack as a real investment, the business's food truck was one that Kanyetta built himself, later to sell and repeat the process another three times. He gleefully credited YouTube as providing the information that he needed in order to complete the task, starting off with a normal step van and gradually building it completely himself other than setting up the electricity. Something needed for him to continue his dream of his customers eating their chicken to good music, often playing a wide array of artists for his customers including his all-time favorite artist, Prince. Chicken Shack is available to follow on the Street Food Finder app or Facebook under Chicken Shack Express.