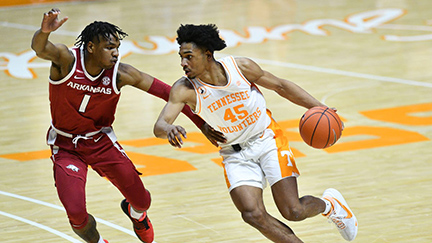 By Ron Wynn
NASHVILLE, TN — The COVID-19 pandemic has greatly affected college basketball, forcing several cancellations and postponements. But it hasn't slowed the progress of the Tennessee Volunteers, who continue to look like the team to beat in the Southeastern Conference along with Alabama. 
While their fortunes keep improving, both Vanderbilt and Tennessee State are struggling both on the court and with games being rescheduled, postponed or cancelled. Vanderbilt had been scheduled to play Tennessee twice last week, but ended up only playing them once, on Saturday in Knoxville.
That game was a blueprint for both teams' seasons to date. Tennessee rolled to an 81-61 victory, blowing open what had been a close game in the second half with a flurry of three-pointers. Balanced scoring and tight defense are their signatures, and they can count on any of five players on a given night for scoring. It was Keon Johnson who led the Volunteers against Vanderbilt, but both Victor Bailey Jr. and Jaden Springer had key three-pointers to power the second half surge. Tennessee began the week 10-1, 4-1 in the SEC and a game behind Alabama. They traveled to Florida Tuesday. The Volunteers return home Saturday for a return engagement with Missouri, one of the league's better teams, but one they blew out on the Tigers' home floor a few weeks ago.
The Commodores are still seeking their first SEC win. They began the week 0-4 in the SEC and 4-6 overall. Their two finest players are Scottie Pippen Jr. and Dylan Disu. The Volubteers hounded Pippen into six turnovers Saturday, essentially taking him out of the game's flow for several critical moments. Disu was often the only consistent offensive presence for the Commodores, Vanderbilt also lost a valuable reserve in Tyrin Lawrence. Lawrence tore his ACL in practice and is out for the remainder of the season. Vanderbilt faced Texas A&M Wednesday in the first of consecutive home games. Arkansas comes to Nashville Saturday.
Though they've come close in recent games, the Tennessee State Tigers have lost six of the seven OVC games they've managed to play. Despite late rallies, they lost road games to Jacksonville State 65-64, and 74-71 to Tennessee Tech. They hope to rally this week with a three-game slate of home contests, assuming that all three can be held. They began the series Tuesday night as they faced SEMO in a rescheduled game. They then are scheduled to play SIU-Edwardsville Thursday and Eastern Illinois Saturday night.