NASHVILLE, TN — With early voting ending, about half of Tennessee voters cast early ballots. As others wait until Tuesday to select Hillary Clinton or Donald Trump,
Nashville's congressman favors total disclosure of Clinton's emails. "I would advocate put- ting them all out there on WikiLeaks, if you need to, so everybody can see and read for themselves up there" on the Inter- net, U.S. Rep. Jim Coo- per said Tuesday. Emails from a Clinton aide sent through a private server are "likely to be duplicate emails and nothing significant. Rather than have everybody fear the worst, just put them all out there so everybody can see." U.S. Rep. Steve Cohen wants FBI Director James Comey's resignation for telling congressional leaders more emails were found. Cooper refrained from saying so.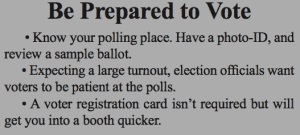 "I don't think the FBI should interfere in American elections," Cooper said. "Nobody knows … now … what's in those emails or whether the FBI director had to warn the public that there were more."
Cohen wrote to Attorney General Loretta Lynch urging the Justice Department to protect voting rights. "I note that the DOJ will not be sending observers to most of the more than a dozen states that have imposed new voting restrictions that could deny the ability of some voters to exercise their right to vote," Cohen said.
Democrats want to repeal Tennessee's 2012 Photo Voter ID law because court decisions in North Carolina and Texas ruled such laws discriminatory. To vote you must have a photo ID — a drivers license, U.S. passport, or military ID — and you must know your polling place.
If you go to the wrong poll, you can only cast a provisional ballot. James Buckner voted early at the Bordeaux Library. "The candidate of my choice is getting slandered more and more," he said. "I needed to get out and get it over with. I don't want to hear any more."
He's retired and watches CNN a lot. "I'd already made my mind up. Early voting is avail- able so that's what I did." Nov. 8 also has elections in Nashville for: U.S. House; two state Senate seats; and 10 state House seats. Polls are open 7 a.m.-7 p.m. When early voting polls closed Wednesday, 154,086 Nashville voters had cast early ballots.
In the 2008 Presidential and State General Election, 190,705 people voted early. In 2012, it was 155,481. Statewide, over 737,000 Tennesseans cast ballots the first week of early voting, up about 20 percent from the number of early votes during the same time in 2012, Secretary of State Tre Hargett said, anticipating the first time most Tennessee votes might be early. He expects heavy Election Day voting.
A surgical intern at Vanderbilt voted at Friendship Baptist Church after his 30-hour shift ended Friday. "Today I have time and I wanted to take advantage of that instead of waiting until the last day," Dr. Wali Johnson said.
Whitney Wells, 18, works and studies occupational therapy at Nashville State. "Mom and Dad already voted," Wells said, walking into the Bordeaux Library for her first vote. The FBI's renewed probe into Clinton emails invigorated Trump's flagging campaign. He's run TV ads during football games.
Some polls show a tossup in Florida and North Carolina. A recent CNN aggregated poll showed Clinton leading by 5 points nationally. But an ABC poll released Tuesday, a week from Election Day, has Trump ahead by 1 percent.
The percentage of votes cast early in 36 states could hit 40 percent this year, CBS reports. In 2012, it reached 35 percent. In 2000, 16 percent of the votes were early.
Tennessee's early voting began in 1994.
The BBC reported last week, early voters favored Hillary Clinton over Donald Trump in Florida, Colorado, and Nevada. Trump was ahead in Iowa and Ohio polls.
Last week national polls had Clinton up nearly 7 points. Experts said that's too big a lead to overcome this late. But the gap is closing. Early turnout by black voters in North Carolina is down 15 percent and down by 10 percent in Florida.
The election is a nail-biter.