Nashville, Tenn. – Facebook is the third most visited website in the world. It is no won-der that businesses large and small use the social media site to promote their services and products. With this in mind Facebook has announced "Keep It Local," a new inte-grated marketing campaign that celebrates the many types of small businesses that make local cultures special and help communities grow and thrive.
The campaign will run for eight weeks in four US cities; Columbus, San Diego, Sacra-mento and Nashville. In the city of Nashville Facebook is featuring not only businesses that have a career in the music scene, they are also celebrating the internationally-themed and internationally-owned businesses that make Music City a treasure.
5 Star Nashville Party Bus (5 Star) is one of those businesses.
5 Star is an immigrant owned company that specializes in providing designated driven vehicles allowing people to enjoy Nashville's night light in a lively atmosphere. The party bus company is featured along two other New American owned companies in a 30 second Television ad.
To celebrate this focus on Entrepreneurs in Nashville who are immigrants, 5 Star is hosting an evening focused on those New Americans who have started businesses in the Middle Tennessee region.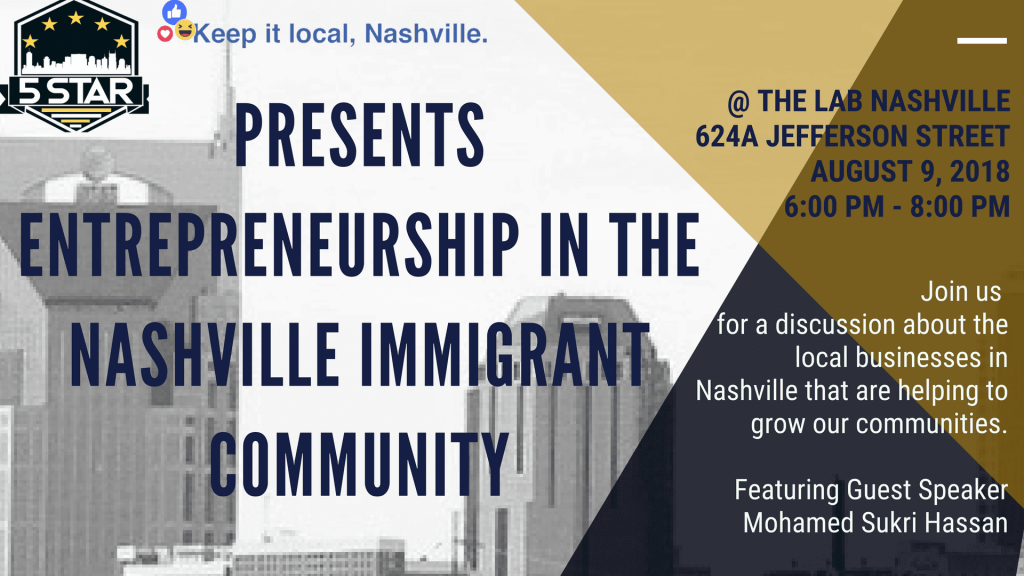 5 Star Party Bus Presents Entrepreneurship in the Nashville Immigrant Community will take place August 9, 2018, 6:00PM – 8:00PM at The Lab Nashville 624A Jefferson Street, Nashville, TN 37208. Immigration Advocate Mohamed Sukri Hassan will lead a discussion focused on small business in Nashville, followed by a showing of the Facebook "Keep It Local" Ad that has an appearance by 5 Star.
5 Star Owner Clarence Darkwa, originally from Ghana, is excited to capitalize on the opportunity that Facebook is offering his company. "Facebook choosing to focus on the immigrant community is a great thing for our city," explained Darkwa. "Now with immi-gration being such a hot topic discussed around the country, we can show the positive impact that immigrants are bringing to the Nashville economy every day."
Finger foods and beverages will be provided. Please feel free to invite all your friends from around Nashville for this entertaining evening full of progressive conversation and networking. More information on the event is available at https://www.facebook.com/events/260021081261464/.
To learn more about the "Keep It Local Nashville" campaign please visit: https://www.facebook.com/keepitlocalnashville.