By Wiley Henry
MEMPHIS, TN – Coming to grips with the death of a loved one could be described as an emotional rollercoaster ride that will eventually subside. Then you will smile again, Dr. Marcia Demarjé Adair Smith promises.
In fact, Smith writes about the stages of grief in "You Will Smile Again, I Promise," a 38-page book that was published in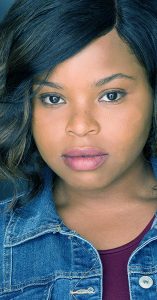 February by Predestined Productions and illustrated by Rhonda Shaw.
Written under Demarjé Adair, a variant of her name, the book was written specifically for five-to 12-year-olds who grapple with death and can't express themselves without some form of intervention. 
Inspiration was derived from her own son's grief after losing his great grandmother, Dorothy Jean Marlow, whom Adair assisted as granddaughter and caregiver in her home in Houston, Texas.
Dorothy Jean Marlow died Nov. 25, 2017. Jaspiere Smith Jr., who was four then, started showing signs of grief last year, said Adair, a 35-year-old native Memphian who works as a licensed therapist and school counselor. 
"I started noticing a lot of the symptoms, a lot of the grieving signs," said Adair, adding that she was busy grieving and catering to everyone else's grief and didn't realize her son was grieving.
In addition to Jaspiere, now seven, others in Adair's household were grieving too in their own way. Her husband Jaspiere Smith Sr. played a supportive role; and there were no tell-tale signs, according to Adair, that their five-year-old son, Jayceon, was overcome with grief then and now. 
Although the book is just for young children and written in its simplest form, parents have a role to play too, Adair said.
"This is just a way to help kids understand what's going on in their body, as well as helping the parents have the conversation," she said. "Sometimes they don't know how [to communicate with their grieving child]." 
According to the 1969 book "On Death and Dying," the author, Elisabeth Kubler-Ross, refers to the five stages of grief as denial, anger, bargaining, depression and acceptance.
Adair adds the following blurb to promote her book: "As parents, we cannot protect our children from life experiences like the death of a loved one. Though it pains us to see them hurt, our job is to help guide and validate their experiences with each stage of grief."
When it comes to death, Adair said, "We really focus on everything else." She adds: "Grieving is a communal action. You're never alone. You don't have to process this by yourself."
"You Will Smile Again, I Promise" can be purchased via the author's website at www.demarjeadair.com, online at Amazon and Apple Books, and at Walmart, Target, and Barnes and Noble.