KOLKATA, India — "For almost half of a year, we remain drowned in floods," Montu Mian, a 45-year-old farmer from Satkhira district in southwestern Bangladesh, told Zenger News.
"Salinity is a perennial problem. So, we can neither cultivate crops nor fishes. If we cultivate fish in ponds, we cannot use the water for drinking or cooking purposes, as it becomes filthy. We cannot afford that luxury as the source for drinking water is scarce due to salinity."
Two-third of Bangladesh is wetlands, and most parts remain submerged for eight months at a stretch almost every year. Bangladesh is prone to floods and water-logging due to Ganga-Brahmaputra river tributaries that flow through the nation and often change their course.
"Last year, Bangladesh witnessed heavy monsoon that submerged one-third of its area," Prime Minister Sheikh Hasina told a convention of 40 world leaders called by U.S. President Joseph R. Biden to discuss the climate crisis. She sought G20 nations' critical role in stopping carbon emissions and said cyclones have become usual in her part of the world due to climate change.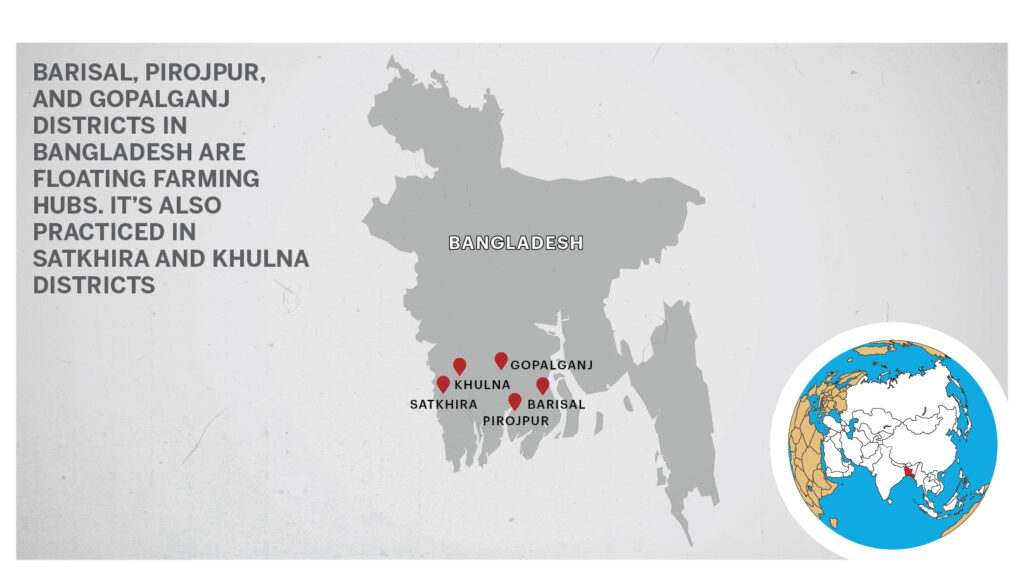 When summit participants raised the "need for better technology to address a changing agricultural landscape", Hasina highlighted that Bangladesh had invented salinity and flood-tolerant crops, floating agriculture technology, and mobile water treatment plants for the coastal people.
As dry land became scarce, Miya was forced to use dhaps, a local name for floating garden agricultural practice or hydroponics, to keep his family going. It is a type of horticulture that involves growing plants without soil — a technique, Miya says, was used by his ancestors 300-400 years ago in the central flood plains of Bangladesh.
"This method has become a blessing for us," Miya said. "Now we can grow fish and vegetables together without polluting ponds. It has become a steady source of income for many poor landless farmers like me."
The science behind floating gardens
Explaining the science behind it, Miya said: "This cultivation method is the combination of floating cage aquaculture and floating vegetables."
"Soil with some compost and fertilizer is used as a holding medium for plants in floating pots attached to fish cages. The waste produced by farmed fish supplies nutrients for plants, which in turn purifies the water."
The south-central and south-western parts of Bangladesh — Barisal, Pirojpur, and Gopalganj districts — are the hubs for the floating gardens.
Most farmers in these areas are impoverished and landless. To survive, they gather water hyacinth and paddy stalks and make a firm bed placed in flood-prone areas. Seedlings are then planted in these beds.
"Floating farming beds are made of water hyacinth and local aquatic weeds, which make starting this relatively inexpensive," Fahmida Akter, a senior research fellow at the James P Grant School of Public Health of BRAC University in Dhaka, told Zenger News.
"Water hyacinths are piled up on a bamboo base, and when the bed reaches the desired size and thickness, it's left for 2-3 weeks to decompose before it is ready for farming."
She says the size, particularly the length, of the floating bed varies from place to place. In Gopalganj, the beds are much smaller than those in Pirojpur and Barisal.
A floating garden takes about 12 hours to make if two men work together for one raft. After the decomposition of crop seeds, they are placed inside ball-like structures made of soil and wrapped by coconut fiber. The seedlings shoot up in around seven days, after which they are transplanted in the floating gardens.
Haseeb Irfanullah, an independent environmentalist and former program coordinator at the International Union for Conservation of Nature in Bangladesh, says the floating gardens are environment friendly.
"Since the floating bed is a traditional practice, farmers never learned about chemicals that are used in the plants," he told Zenger News. "The entire thing is natural. There is no scope for polluting water bodies. Very seldom urea is used, but that is in very less quantity."
Globally important agricultural heritage system
The Food and Agricultural Organization declared the floating gardens of Bangladesh to be a globally important agricultural heritage system in 2015.
"The floating gardens provide enough food for the farmer's family, especially during monsoons. The extra vegetables and spices are sold by the farmers, which gives them a sound source of income during these months," Irfanullah said.
The average profit of farmers during the monsoon season goes up to $140 per 100 square meters, according to reports from the Food and Agricultural Organization. Reports also state that this system can be the best food production process for 60-90 percent of people in the wetlands of southern Bangladesh.
Farmers grow vegetables like spinach, eggplant, bitter gourd, pumpkin, snake gourd, and spices like turmeric and ginger. Rice seedlings can also be developed. During floods, small boats are used by farmers to navigate between the floating gardens.
When the water levels go down, the floating beds are broken up and mixed with soil, which helps grow winter crops, such as cauliflower, tomato, cabbage, and turnip.
Government's push for Agri tech
Several floating gardens have been started by the Bangladeshi government in the north-eastern wetlands of the nation for climate change adoption and non-governmental organizations to curb food scarcity and poverty.
These wetlands are locally known as hoars. However, transplanting the floating beds from one part of the country to another became a challenge.
"The resource system, which is the water body, available aquatic weeds are not 100 percent like the resource system in Pirojpur or Barishal," said Akter. "As floating farming is not native for the people in haor areas, they need time to practice spontaneously.
"Moreover, in haor areas, people have other livelihood options that are more rewarding than floating farming. So, people are not very interested in getting involved in floating farming."
In 2013, the Shiekh Hasina government sanctioned a  project of $1.6 million to promote floating agriculture. The project covered 12,000 families in eight districts across 50 locations.
"The Bangladesh government started another project to sustain and promote floating agriculture in 2019 after the first project came to an end," said Irfanullah. "The project is ongoing, and very few details have been revealed about it."
Anna Rani, a 36-year-old farmer from the Khulna district, is one of the project beneficiaries trained on Aqua geoponic.
She and her husband are day laborers. They had to move around for work in other fields or sometimes work in land development in the area. Most of the time, they had to stay out of their home, leaving their only son under the care of a neighbor.
"This technology is a blessing for us who do not have any land for cultivation," Rani told Zenger News. "We had to work as labor on others' land. We had to buy everything from the market, which was difficult for us. Still, we could not provide the necessary proteins to our son. Each day was a struggle. But now, we are getting both fish and vegetables from aqua cage culture."
"My son is in the fifth standard," Rani said, explaining how a simple technology uplifted her family. "Each month, we pay BDT 800 ($9) for his tuition. Last month, we even sold 100 kilograms (220 pounds) of fish and earned BDT 9,000 ($106). By selling spinach, we earned BDT 1,200 ($14) so far."
Has the world learned from Bangladesh
The floating garden is often associated with specific indigenous communities who gave these floating bodies different names; 'radh' in Kashmir (used in Dal), 'pontha' in the southeast of India, 'kaing' in Myanmar (used in Inle Lake), 'chinampas' in Mexico, and 'dhap' or ' baira' in Bangladesh.
This means that floating garden systems are developed and rooted in the communities which have suffered from cruel disasters, according to a report by the Food and Agricultural Organization.
"Due to the rising sea level, low-lying areas are going to be underwater more frequently and for prolonged periods worldwide," Akter told Zenger News.
"This floating garden system can be adopted and scaled up in a similar context for food as well as a livelihood option."
Countries with arid climates, such as India, have shown increased interest in sustainable farming solutions like hydroponics.
"Combined with drought conditions and the vagaries of global warming, Indian agriculturalists are fighting a drastic reduction in the availability of locally grown food for India's large population," Mythri Arun, a researcher at PES University, told Zenger News.
"Because of its [floating farming's] ability to serve as a possible solution to India's dwindling availability of fertile soil or clean and surplus water, this can resolve many of the issues that challenge year-round growing."
She warned that it would not be possible in most parts of India due to droughts and unpredictable weather, polluted water systems, and high freight costs.
Also, experts have raised questions over whether these kinds of farms can effectively answer the impending food crisis, considering start-up and maintenance charges would be huge if done on an industrial scale.
"It involves a complex setup, and the running and maintenance costs would be huge," said Arun. "The technique requires some amount of expertise to be practiced from scratch. The expense can certainly not be borne by new traditional farmers, but can be utilized by entrepreneurs and government agencies with big investment."
"Besides, all the start-ups and agencies involved in hydroponics currently have the backing of an agriculture scientist or expert in the field. This kind of expertise is certainly not commonplace, making the technique cumbersome."
(Edited by Amrita Das and Gaurab Dasgupta. Map by Urvashi Makwana)
The post Bangladesh's Floating Farms Fight Climate Change Vagaries appeared first on Zenger News.