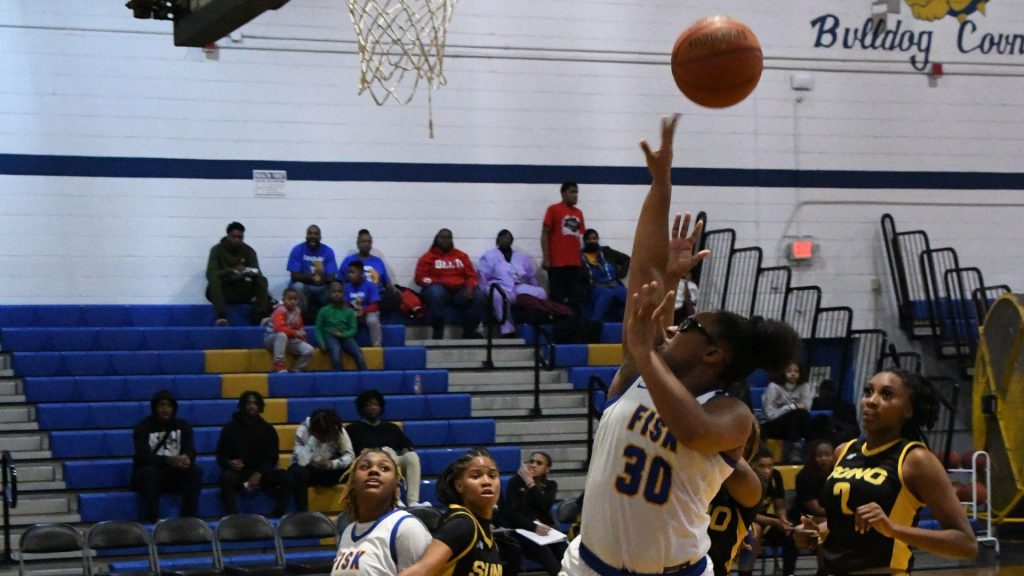 LITTLE ROCK, Ark.- The Fisk Lady Bulldogs (16-7, 10-3 GCAC) continued their resurgence this season, going 2-1 this weekend in the "Gulf Coast Athletic Conference Pod" at Philander Smith College. On Friday, Fisk defeated Rust College 63-61 on a buzzer-beater by Maya Buckhanon. The victory was the first over Rust this century. Buckhanon finished the game with 17 points and 13 rebounds.
Saturday's game against host Philander Smith was somewhat of a letdown, as Fisk fell 73-57. Philander came out smoking, going up 18-7 in the first quarter, and cruised to the win. Freshman Anaya Davis led Fisk with 13 points. Buckhanon was held to her lowest-scoring effort of the year but had 22 rebounds. Mya Allen added 12 points. Zip Davis and Daigeona Guinn added 10 points apiece.
Philander's Myiah Yelder scored 33 points, shooting a blistering 8 of 11 from behind the arc. to lead all scorers. Fisk committed 27 turnovers in the game.
Sophomore Laila Eliotti's 19 points effort salvaged the weekend for the Lady Bulldogs in their 79-73 victory over Dillard University on Sunday. Freshman Anaya Davis recorded a double-double with 18 points and 15 rebounds. Buckhanon also had a double-double with 13 points and 11 rebounds. Allen added 11 points, and A'Niya Young had 13 rebounds.
"Although we had a good weekend, we have to get better," said head coach Victoria Crawford. "Beating Rust was good, but we came out flat the next day. Getting the win over Dillard was huge. We have two more games before the tournament. We will get there."
The victory puts Fisk in a second-place tie in the conference with Philander and one game behind Rust. On Thursday, the Lady Bulldogs will travel to Huntsville, Alabama, to take on Oakwood University in the final GCAC regular season game. Last season, Eliotti had her career high of 35 points in the same building. Eliotti the most of her first start since January 8 with her effort against Dillard. Now she looks to help her team finish the season strong.
"I took it as a challenge when I was asked to start," said Eliotti. "For me, I will do anything to help us win. This team has a chance to win the (GCAC) tournament so we have to dig deep. I like our chances."
Fisk Women's Basketball Earns First NAIA Southeast Ranking
The Fisk Lady Bulldog team keeps making history this season. Today it was announced that they are the 13th ranked team in the Southeast Region by the NAIA.
According to the Fisk Athletics website, the Southeast region of the NAIA is comprised of four conferences: The Appalachian, Gulf Coast, Southern States, and Sun. One member from each conference will come together to rank the top teams for that region.
"It is an honor to be recognized," said Crawford. "Rankings are great, but we are about getting better. We have set some high goals this year. We still have work to do."