By Lucas Johnson
NASHVILLE, TN (TSU News Service) — Tennessee State University Police Chief Gregory Robinson is the recipient of a prestigious international campus safety award.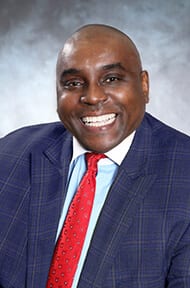 Robinson has been selected to receive the 2019 International Association of Campus Law Enforcement Administrators (IACLEA) Award for Administrative Excellence. He will be presented the award in June at a ceremony in Vancouver, British Columbia, Canada.
The IACLEA is the leading authority for campus public safety. Its members represent campus law enforcement and security issues before law and policy makers, higher education officials, and members of the public around the globe.
"This award is incredibly humbling," Robinson said. "I thank the IACLEA for the selection, and the officers who make up the TSUPD for embracing a vision that was designed to enhance the characterization of professionalism and service as a Department. In addition, a special thanks to TSU President Glenda Glover for believing in me and choosing me to lead this organization."
Robinson lauded his officers for their roles in "decreasing crime in and around campus, along with improved methodologies that have proven to be foundational in building the many positive relationships with the students, faculty, and staff members at TSU."
Crime on college campuses around Tennessee is down, according to a recent report by the Tennessee Bureau of Investigation. TSU is one school that saw major improvement from 2017 to 2018.
"We have had record numbers in decline and we want to keep it like that," Robinson said in an interview with Nashville television station WSMV.
For more information about TSUPD, visit https://www.tnstate.edu/police/.