By Peter White
NASHVILLE, TN — Hundreds of citizens flooded the city council chamber Tuesday night to comment on Mayor David Briley's proposed budget. It's $65.8 million less than last year's. Some programs will be spared the knife.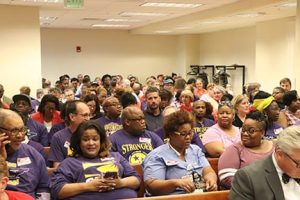 The Black, Hispanic, Latino, and LGBT Chambers of Commerce were happy for their $25,000 grants. In Full Motion, an after school program that helps inner city kids prepare for SAT exams, asked council members to keep supporting the non-profit. Several clients of the United Way's Financial Empowerment Center spoke about how getting out of debt changed their lives.  
Diane Bates was $70,000 in debt. The Center helped her make a plan. She and her husband paid off the debt and are buying a house now.
"We've been broke long enough. I'm sick of being broke. I'm sick of being slave to the lender," said Diane Bates.  She could have been talking about Metro's finances. The city will pay $11.7 million to service its debt in FY18.  
"We do not have a $200 surplus because we've wasted it," said District 12 Councilman Steve Glover.  "We have spent it on stupid things. We have funded things we shouldn't have. We bought $18 million bridges to nowhere," he said.
Glover thinks the surplus is less than $60 million. The Finance Department FY 2019 Budget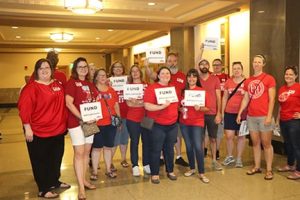 summary lists the city's available revenues at about $22 million. Glover asked for a hard number at Monday's Budget and Finance Committee meeting but he said the Finance Department doesn't know the actual figure.
Metro property taxes were down $26 million in FY2018.  Some of that shortfall is due to property owners who appealed their assessments with the Board of Equalization.  Six board members were reappointed to two-year terms at the beginning of Tuesday night's meeting. A new member, Kamal Saba, was also appointed.
The board will brief the Council on their operations later this month. One council member wanted to hear from the Board of Equalization first before re-appointing them. "I think we're putting the cart before the horse," said At-Large Councilwoman Sharon Hurt. 
Metro schoolteachers and city employees were expecting a three percent raise and a cost of living increase. School Superintendent Dr. Shawn Joseph asked for $924 million, $45 million more than last year. Briley's budget gives Metro schools just a $5 million increase. Projected spending in many city departments is flat. Some will have to make cuts to reduce the city's operational costs by $11.5 million next year.
 "We need better funding for our schools that's why we're all here tonight," said Apollo MS English language teacher Heather McCall.  
"We're in such a booming economy right now there shouldn't be a reason why they can't fund us and everybody else. 
I don't understand why we don't have enough money. What has happened to the money that we have? If we can take out a bond for the Tennessee Titans, then take out a bond to support your children before they become a bunch of negligent teenage troublemakers," McCall said.
At Large Councilman Bob Mendes has proposed a FY2019 budget that does give schools more money but it pays for that with a property tax increase.  Nashville's tax rate is $3.15. Chattanooga, Knoxville, Memphis, Murfreesboro, and Franklin all have higher tax rates.