By Peter White
NASHVILLE, TN – Miami is holding a referendum in November to decide if the city must take competitive bids to build David Beckham's MLS stadium there. 
This is how the Miami New Times reported it: "Three commissioners voted to move the plan forward after multiple weeks of abrupt public proposals, last-minute plan changes, accusations of lawbreaking and corruption, and a whole lot of general bloviating and confusion."
That's pretty much how the soccer deal in Nashville has unfolded. Like Nashville, Miami is handing over a big piece of public land to a private business. 
But unlike Miami, Nashville voters won't get to decide if that's what they want because the City Council rejected a proposal Tuesday to hold a referendum on development at the Fairgrounds. The vote was 12 for, 25 against, and 2 abstentions.
Instead, the Council voted to demolish the existing buildings at the Fairgrounds and to declare 10 acres surplus and give a ground lease to John Ingram for 99 years. The lease on the stadium is for 30 years. After that, if Nashville's MLS team moves, Ingram will still have 69 more years on the 10-acre lease.
"She picked it," Ingram said. He was referring to former Mayor Megan Barry, who Ingram says, did not discuss any other sites with him for the MLS stadium. The controversy over building it at the Fairgrounds has split the city wide open. 
District 11 Councilman Larry Hagar asked if the ten acres had been offered to any other department. Under city rules, it is supposed to be. 
"It went thru the same mandatory referral process that all surplus proposals go through," answered City Attorney Jon Cooper. 
"So you're saying there is not any department within Metro that needed that ten acres of land?" Hagar asked.
"I'm saying nobody claimed it," Cooper said.
However, as the Tribune reported last week, the Public Property division of the Finance Department has assessed the property, worth about $20 million, but that's all it has done.
 Cooper said Finance had offered the land to all other Metro departments "for review and sign off". 
"So we're playing word games," Hagar said. "There has not been enough transparency between the administration and we, as the council members," he added.
Hagar noted that last week the Briley administration did not provide copies of the traffic study to the council which predicted traffic will increase by 28 percent in the neighborhood if the stadium is built at the Fairgrounds. 
Councilwoman Tanaka Vercher wanted the Council to have copies of the operating agreement with Ingram's company to make sure "there are assurances in there that nobody gets displaced". However, no final agreement has been signed.  Parking spaces have been estimated but what will happen if there is a scheduling conflict and two events need the same parking area is unclear. 
What will happen if there isn't enough room to hold a State Fair because of the stadium? The Tennessee State Fair Association will probably decide to hold the annual State Fair someplace other than the State Fairgrounds. Vercher wanted those things clarified in writing so that the flea market vendors, races, the State Fair, and other Expo events would not be shortchanged by MLS games. Her amendment failed.
District 34 Councilwoman Angie Henderson raised a question about what the $50 million in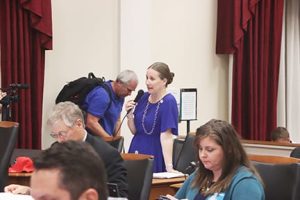 general obligation bonds would buy. The money is to be split between infrastructure for the stadium and improvements for the Fairgrounds but what those things are, how much they would cost, and what the priorities are for the spending has not been determined.
Henderson wanted the bond issue deferred so the council could get some answers before the city takes on more debt. Taxpayers are paying $11.7 million to service the city debt this year and that is money taken out of the 2018-19 operating budget. Her amendment failed.
The "ayes" won Tuesday night and At Large Councilwoman Sharon Hurt was among them. She told the council she supported the deal after recalling something her mother used to tell her: "Ten percent of something beats the hell out of hundred percent of nothing."
"You've been duped," District 10 Councilman Doug Pardue told the Council.
District 21 Councilman Ed Kindall said Metro has awarded black contractors only 2 percent of its business and Ingram is promising that 25 percent of the work will go to minority businesses. Based on population, that is what black contractors should get city-wide, not just at the Fairgrounds. Discrimination against black businesses in Nashville has been a reality for decades. That's why Kindall voted for the Fairgrounds stadium.
The conflict at the Fairgrounds has divided the city but the issue has not really been about building a soccer stadium or building more affordable housing. Most people think those are good things. 
The conflict is about building those things at the Fairgrounds which takes away ten acres from the Flea Market vendors, the fair-goers, and race fans who have been using it for decades. The conflict has also been about money.
"We'll just keep on spending like we've got it to spend. And we don't," said District 12 Councilman Steve Glover. He said the city will have to pay $8.6 million/yr. for the first five years of the stadium contract. Glover warned Council Members next year's budget may not have funds for General Hospital or cost of living raises for city employees, for the second year in a row.
Mayor Briley Statement on MLS Soccer Victory
I applaud the Council for its final approval of legislation to bring Major League Soccer to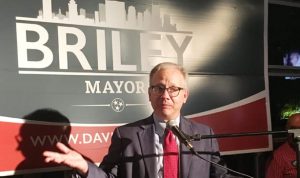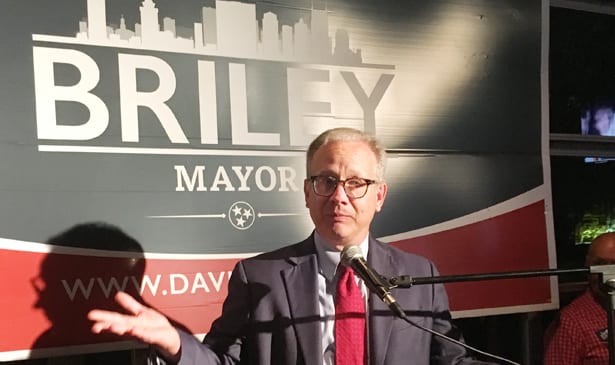 Nashville. This project will have a positive and lasting impact on our entire community. It embraces growth and new opportunities while ensuring every resident benefits and thrives along with it. 
This project will provide needed upgrades to the Fairgrounds, essential affordable housing, broad minority business opportunities and increased safety protections for our workers.
This project will improve the Fairgrounds facilities but it will not change our customs or the activities we cherish. I pledge to all of those engaged in these discussions over the past months that I am listening. Together we will build on the years of community tradition at our Fairgrounds and I look forward to continuing to work closely with you as this project moves forward.