By Peter White
NASHVILLE, TN — Last week the Senate Education Committee heard criticism about Governor Bill Lee's proposal to spend $25.5 million/yr on a voucher program for 5,000 students in low-performing public schools. Lee wants to put $37.4 million into school choice initiatives next year. 
Lee wants to add 2,500 students a year and if enrollment expands, state spending would increase to $125 million by 2024. Tennessee's General Assembly has never approved such a big voucher bill, despite numerous attempts over the last decade, according to Chalkbeat, an education newsletter.
Lee said he wants to give low-income parents stuck in bad public schools a choice to educate their kids in private or religious schools. Lee's program would be funded by Education Savings Accounts (ESA), essentially vouchers worth $7300 per student per year.
The program would increase the number of private charter schools in Tennessee but the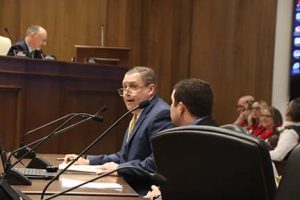 vouchers probably could not be used in public charter schools which use local, state, and federal funds dispersed by local school districts. 
A similar voucher program for disabled kids that provides $6,700 per student has drawn few takers since it was created in 2015. Public schools spend extra money on handicapped children and private schools sometimes don't take disabled students or kids with learning disabilities. Public schools are required to serve them.
Lennie Jarratt, an education specialist with the conservative Heartland Institute, cited similar programs in other states and claimed several studies showed positive student outcomes. He said charter school vouchers can only be used for tuition while ESAs are more flexible and can be used for other things like tutoring and transportation. 
"It will be a revolution to personalize education on anything people can dream up," Jarratt said. That is a fundamentally different idea than teaching the three "Rs" which public schools have been doing since 1850.
Sen. Joey Hensley (R-District 28) has doubts about the Governor's plan and asked a lot of questions. "That's one of the things you hear that it's taking money from public schools. But you all were saying that schools actually benefit financially, so how does that happen?" he asked. 
Lee said he will pay for the program out of his budget and any money local school districts will lose will be reimbursed. But school districts get funded based on their daily attendance and critics say ESAs will shrink funding to public schools just when the state should be increasing it.
"Stop fighting over our kids and fight for our kids," said Dale Lynch, Executive Director of the Tennessee Organization of School Superintendents (TOSS). Lynch said the bill lacks fiscal accountability and undermines support for the one million kids in Tennessee's public schools. TOSS also opposes the bill because public schools test English (ELA), math, social studies, and science but only ELA and math assessments would be required under Lee's plan.
There are good charter schools but Ohio, Louisiana, Arizona, and Washington D.C. have had some dismal failures and frauds. Charter schools open quickly but shut down just as quickly, leaving parents and student scrambling. Roughly 2,500 charter schools shut their doors between 2001 and 2014, according to the National Education Association (NEA).
"It's all about accountability," said Lynch. Charter schools have more flexible curricula and fewer requirements than regular public schools. Almost by definition, they have less oversight.  
A Nashville charter school, New Vision Academy, abruptly closed March 6, 2019 forcing 158 students to quickly find other schools. The Tennessean reported that New Vision is under state and federal investigation for financial irregularities and failure to serve English-learners and students with learning disabilities. Tim Malone, New Vision's former Executive Director, made $312,971 in 2017. His wife, LaKesha Malone, made $250,000.
In 2016, Preston Green, a Professor of Education at the University of Connecticut, wrote about the glut of poor-performing charter schools cropping up in low income communities. He compared the situation to the subprime loan crisis that triggered the 2008-09 economic recession. In other words, Green thinks in many cases charter schools are run by scams. 
More distressing, the Associated Press analyzed charter school enrollment nationwide in December 2017. They found charter schools were among the most racially segregated in the nation.
While only 4 percent of traditional public schools have student bodies that are 99 percent minority, the AP found 17 percent of charter schools are 99 percent minority. More than 1,000 of the nation's 6,747 charter schools in 2015 had minority enrollment of at least 99 percent.
Charter schools began in 1992 as incubators of innovation that were supposed to collaborate with public schools. Many charter schools today still do that. But the NEA says many are for-profit, corporate chains that seek not to collaborate, but to compete with public schools for enrollment and taxpayer dollars.
Lee has been promoting his program for months. Secretary of Education Betsy DeVos was in Nashville last week and said she supported it. For public school teachers and administrators that's a dubious endorsement. DeVos is a big charter school supporter. 
Local school boards in Middle Tennessee have publicly opposed the Governor's plan. And critics have pointed out that a "citizens only" requirement violates federal law. All children, regardless of immigration status, are guaranteed a public school education in the United States. Rep. G.A. Hardaway, (D-Memphis), asked Attorney General Herbert Slatery to issue an opinion by next week. The plan could also violate the separation of church and state enshrined in the U.S. Constitution. 
The program could also face a legal challenge from parents who want to enroll in the program but cannot because it will only serve families in Shelby, Knox, Jackson, Hamilton, and Davidson counties, as well as the state-run Achievement School District.
If the program was made available in Williamson County, then wealthy families could use that money to send their kids to private schools at taxpayers' expense. That happened in Cleveland where two-thirds of vouchers went to families already sending children to private schools.
If the program went statewide, Tennessee taxpayers could end up paying for two separate education systems. On Tuesday, the Senate Finance, Ways, and Means Committee approved $951,000 to fund a state charter school commission that would authorize and monitor these new voucher schools.