MANCHESTER, TN — Although Sunday was the last day on the job for MTSU College of Media and Entertainment students at the Bonnaroo campus, for some their work is far from over.
"With 16 band performances in the can, we've got hundreds of audio tracks and video files to work with in our post-production phase back on campus over the next two weeks," said Michael Fleming, a professor in MTSU's Department of Recording Industry.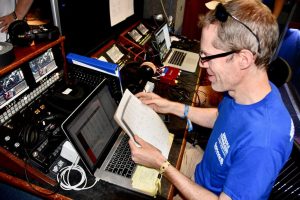 "This year, student video directors and audio mixers will be working together closer than ever to recut, remix and package our music videos," Fleming said. 
A team of about 35 student multimedia communicators was earning college credit and gaining real-world experience at the music and arts festival, which Dean Ken Paulson calls his "Bonnaroo campus." It's MTSU's sixth year in its partnership with Bonnaroo.
Video and film production and photography majors from the Department of Media Arts and audio production majors from the Department of Recording Industry were capturing performance of emerging artists on Bonnaroo's Who Stage, while multimedia majors from the School of Journalism and Strategic Media were covering acts for area media outlets.
"The most important takeaway for our students is confidence," Paulson said. "They have successfully applied classroom lessons in the field, negotiating challenging logistics and working long hours.
"They now know that they have what it takes to be a true professional."
Brea Robbins, a MTSU junior in video production, said, "Getting to shoot and direct acts at Bonnaroo has been such an amazing experience.
"I feel so blessed that MTSU has the resources to let us practice our skills in a real-world environment," she said. "This unique experience allows us to learn from the best and connect with the industry while still in school."
This is the fifth year the student production team at Bonnaroo used MTSU's state-of-the-art, $1.7 million Mobile Production Lab, which captured footage from the festival's Who Stage.
Students learn from the grind of a four-day festival, said Robert Gordon Jr., an associate professor in Media Arts, who oversees the mobile lab.
"It is easy to get tired and over-confident over time after the newness wears off," Gordon said. "A multi-act festival or a concert tour can be a grind. This project allows students the opportunity to experience and hopefully master that in a safe environment."
That point was echoed by Leon Alligood, an associate professor of journalism, who mentored students covering the festival for The Tennessean and other media outlets.
"Offering students an opportunity to immerse themselves in a work environment such as Bonnaroo tests them in so many real-world ways, from negotiating credential issues to snagging a quote from an elusive artist to just dealing with WiFi and other tech problems," he said.
"It's a great place to dive into the deep end of the pool for the first time."