The exploits and accomplishments of Lebron James and Serena Williams are unquestioned. Each is at the top of their sport, and arguably the greatest ever, though there's much more

debate about that in basketball than tennis circles. And on the face of it, last week's selection of James and Williams as AP Male and Female Athlete of the Year makes sense. It is the third time James has won this award and fifth for Williams, and neither seems to have lost much despite many years of dominating their respective sports.
James averaged 28.7 points, 8.8 rebounds and 8.4 assists in 2018, while playing 102 games between Cleveland and Los Angeles, where he went in free agency at the start of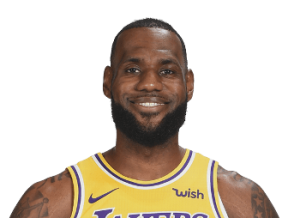 the 2018-19 season. But before departing, he led the Cavaliers to the NBA Finals, his eighth straight time there as a player, although the Golden State Warriors swept the Cavs. James also opened the "I Promise" school for at-risk children in Akron, and continued to speak out on social issues despite the cries of right-wing media types that he should simply play and keep quiet.
Serena Williams reached two Grand Slam Finals in 2018, only one year after surviving a health scare during her pregnancy that was far worse than many realized until she openly discussed it. Though she lost the Wimbledon final to Angelique Kerber and the U.S. Open crown to Naomi Osaka, for Serena Williams to make even one Grand Slam final, let alone two, in such a short period after what she endured, made a huge impression on those voting for the honor.
No reasonable or sensible person will argue these two aren't worthy of any awards they receive. But a good case can be made they weren't the most dominant athletes in sports for this year. If you're going just by numbers and history, Boston Red Sox outfielder Mookie Betts and gymnast Simone Biles were clearly at the top of the heap, and accomplished things few others have even approached throughout their sport's existence.
Betts was the offensive and defensive catalyst for a Boston Red Sox team that went 108-54 in the regular season. During the playoffs the Red Sox never lost two consecutive games in any series. They beat the Yankees in four games, and both the Astros and Dodgers in five, compiling an impressive 11-3 record. Betts led both leagues with a .346 batting average, a .640 slugging percentage, and 129 runs scored. He also won a third consecutive Gold Glove, and capped that by being named  American League MVP. In a sport whose origins date back to the 19th century, Mookie Betts became the only player in American League history to win the World Series, Gold Glove and Silver Slugger awards, and the AL MVP in the same season.
Gymnastics is a sport followed only by a passionate few, even in Olympic years. That following shrinks even more in non-Olympic seasons, which accounts for why there was so little fanfare given Biles' exploits anywhere other than  gymnastic articles and women's sports publications/websites. But she certainly had a historic year as well. Biles won four golds and six medals overall in the world championships in Qatar. She now has 20 in her career, which officially ties Russia's Svetlana Khorkina for the most by a female gymnast.
But there's one big difference in her achievement. Biles has never had any accusations, even any hints, regarding using hidden supplements or drugs to advance her career. She's so super clean in that department that she's often volunteered to let her test records be made public. In a season when far more attention was being paid to the ongoing scandal in American gymnastics involving the reputed sexual misconduct of prominent officials and coaches, Biles' performances were its bright light.
Both Betts and Biles finished second to James and Williams, and that raises the questions of whether these awards are supposed to reflect historic achievement, or in essence be career rewards. There's certainly no requirement that the recipient win titles or be on a championship team. James and Williams are global stars beloved by numerous people who neither follow nor particularly care about basketball or tennis. It's wonderful to see the adulation and impact each has across the board, and both are far more than athletes competing for personal glory.
Still, the things Betts and Biles have done are unprecedented, even if Biles only tied a past yardstick. It's hard not to view what they did as the single greatest accomplishments of any athletes this year. Sports Illustrated went one step further in the baffling process, picking the Golden State Warriors' entire squad as their SportsPersons of the year, bypassing James, Williams, Betts and Biles. That choice is also much more for career achievement, with the Warriors having won three titles in four years. That is clearly something to savor. But it's far from historic. The Celtics once won eight in a row and 11 of 13. The Bulls won six in eight seasons. Is winning three in four really THAT unique?
Bottom line, basketball and tennis are clearly more popular than baseball and gymnastics, and no doubt that also played a role in the selections. It's not taking anything away from the greatness of Lebron James and Serena Williams to suggest that in 2018 they should have finished second to Mookie Betts and Simone Biles, at least in our view.