Would mark the most significant capital investment in Metro history to shape the future of Nashville
NASHVILLE, Tenn. (October 17, 2017) – Mayor Megan Barry unveiled today Let's Move Nashville: Metro's Transportation Solution, a plan that aligns with the IMPROVE Act passed earlier this year. In early 2018, Metro Council members will be asked to put the plan on the ballot for the May 2018 countywide vote.
"Investment in transportation today is an investment in Nashville's future. More transportation options will make life better for Nashvillians, whether you moved here last summer or you've spent your entire life here, and it will ensure that the city continues to be a great place to live when today's children have children of their own," said Mayor Barry. "This comprehensive transportation solution will connect more neighborhoods with each other and open the door even wider to the city's job, education and entertainment centers. We will make sure that no one is left behind."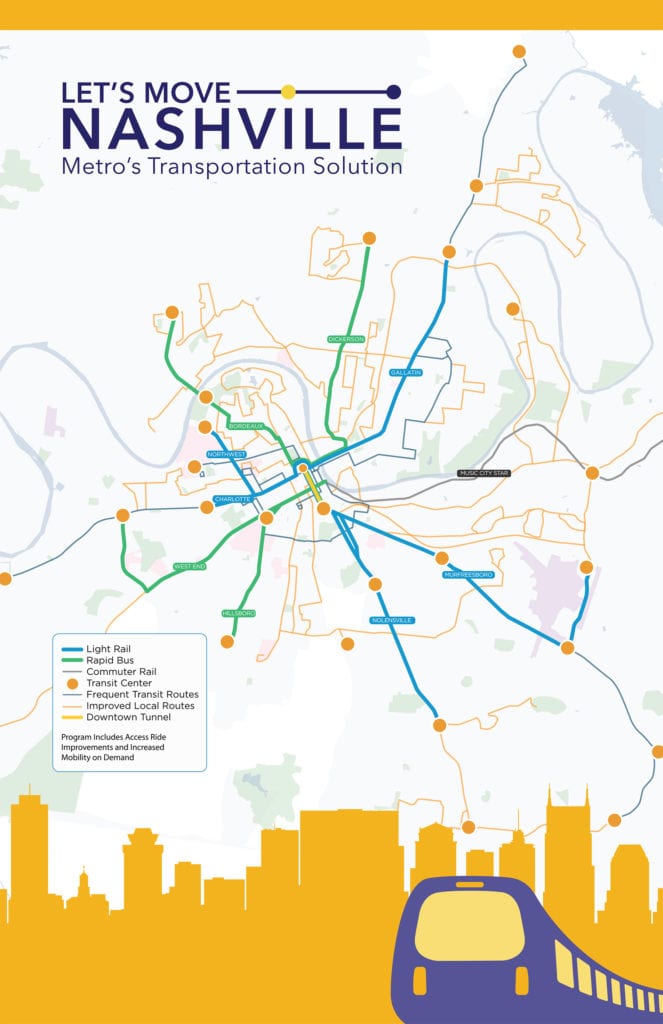 Let's Move Nashville is a $5.2 billion infrastructure investment that will be funded by a range of fees, including business, sales and tourism taxes. The plan originated after many years of study and community engagements through the nMotion strategic plan, which was led by MTA and RTA, as well as coordination at the state and local level. It includes 27 miles of Nashville's first-ever light rail system, four rapid bus routes which will offer a dramatic increase on the service and frequency, and a strategy of service and infrastructure improvements.
Details of the plan are:
Existing bus service improvements with state-of-the-art electric buses and more cross-town routes, 15-minute peak service and buses running 20 hours of every day.
Rapid Bus along Dickerson Road, Hillsboro Road, West End Avenue and the Bordeaux route, which will include signal prioritization, queue jumps, and infrastructure improvements to move transit riders faster to their destination.
Light Rail on our busiest corridors – Gallatin Road, Nolensville Road, Charlotte Avenue and Murfreesboro Road to the airport. There will also be a light rail line using existing rails that will run along the Northwest Corridor to Buchanan Street near Tennessee State University. The network will begin operations in 2027 and be completed by 2032.
Underground tunnel downtown serving the region's job, economic and entertainment center while connecting the light rail network from north to south.
Neighborhood Transit Centers that offer safe and comfortable access to the entire system.
Transportation network enhancements such as better sidewalks, traffic synchronization and signal improvements, and fixing dangerous intersections.
"nMotion was a great starting point for a comprehensive transit plan, but I believe we were able to make it even better by making sure North Nashville was included in the light rail transit network," said Mayor Barry. "I worked closely with MTA Director Steve Bland and our regional mayors to find a solution that will allow for light rail to run on existing freight lines that will connect residents, businesses, colleges and universities in North Nashville to the network in a way that result in better access to jobs and opportunities."
Metro's transportation solution would not be possible without the passage of the IMPROVE Act earlier this year. This legislation, in addition to funding road and bridge projects across the state, authorized local government to collect surcharges on various taxes and fees currently being assessed by the local government, if approved by voters by referendum. Metro will seek federal grants where available, while also utilizing four surcharges to fund the project implementation and long-term maintenance of the system:
One-half percent sales tax surcharge beginning in July of 2018, and graduating to one percent in 2023

A recent study released by the Nashville Area Chamber of Commerce shows that nearly half (47%) of sales tax collections in Davidson County are generated by out-of-county residents. 

One-quarter percent surcharge on the hotel/motel tax, graduating to three-eighths of a percent in 2023

The Convention Center Authority, which is funded in part by local hotel taxes and fees, is anticipated to help pay for the transit system by constructing a SoBro station for light rail and rapid bus service. Additionally, the Metro Nashville Airport Authority has agreed in principle to fund a light rail spur from Murfreesboro Road to the Airport with terminal access. 

20% surcharge on the rental car tax

Metro currently charges a 1 percent tax on the gross proceeds derived from the lease or rental of any passenger motor vehicle, truck or trailer for a period of five days or less. This 20% surcharge would result in a total of 1.2% surcharge on rental cars. 

20% surcharge on the business and excise tax

Businesses in Davidson County are assessed a business and excise tax based on a variety of classifications established under TCA 67-4-708. If a business currently pays $1,000 in such a tax, this surcharge would result in an additional $200 annually. 
"It's important to me that we  are equitable and fair with the taxes used to pay for transit, while understanding the need for a bold, comprehensive transportation system that will address Nashville's needs now and in the future," said Mayor Barry. "This is a balanced funding proposal that will ensure that visitors and out-of-county residents who may use our roads or transit system will pay their fair share along with residents who will have access to better jobs and transportation options as a result of this proposal."
Mayor Barry has also focused on equity and affordability as a component of Metro's transportation solution. Under the proposal, fares for Nashville residents living at or below the federal poverty level will be eliminated, with additional reduced fares for young students, seniors, and disabled Nashvillians.
"We will make sure local workers and small, minority, and women-owned businesses have the opportunity to compete for the jobs and contracts that result from this enormous investment in Nashville's future," said Mayor Barry. "I'm absolutely committed to making sure there are community benefits to this project that go far beyond the better transportation options, because this is about equity, access, mobility, and opportunity for all Nashvillians."
In an effort to help further shape policies around affordable housing, including how best to use the transit-oriented development district legislation that allows Metro to capture and invest revenues along the transit corridors into affordable housing, Mayor Barry intends to create an affordability and transit task force in the coming weeks to address the needs of working families.
"Better public transportation means access to better jobs, better health care, and better schools for Nashville's residents," said Walter Searcy, board member of the Metro Transit Authority and spokesperson for the Transit for Nashville campaign. "I appreciate Mayor Barry putting out such a bold transit plan, and her commitment to ensuring affordability, equity, and access is at the forefront of the discussion."
In an effort to engage and inform the community on Metro's transportation solution, the Mayor's Office, Metro Public Works, and MTA will be hosting a series of open houses throughout Davidson County, starting with neighborhoods along the light rail corridors:
Downtown Corridor: Nashville Farmers' Market Food Court area – Thursday, October 26; 5:30 p.m. – 7:30 p.m.
Northwest Corridor: Tennessee State University, Elliott Hall – Thursday, November 2; 6:00 p.m. – 8:00 p.m.
Charlotte Avenue Corridor: Lentz Public Health Center, Centennial Rooms – Thursday, November 9; 6:00 p.m. – 8:00 p.m.
Murfreesboro Road Corridor: Trevecca, Tarter Student Activity Center – Tuesday, November 14; 6:00 p.m. – 8:00 p.m.
Nolensville Road Corridor: Coleman Park, Gym – Saturday, November 18; 12:00 p.m. – 2:00 p.m.
Gallatin Road Corridor: East Nashville Magnet High – Monday, November 20; 6:00 p.m. – 8:00 p.m.
Once the transit improvement plan is fully reviewed by the community and approved by an independent CPA firm with criteria set forth by the Tennessee State Comptroller's Office, the Metro Council will be asked to consider an ordinance that will authorize the plan to be placed on the ballot for the May 1, 2018 election.
"We must act now to address the need for better transportation options if our city is going to continue to grow and thrive in the future," said Vice Mayor David Briley. "The Metro Council will carefully review Mayor Barry's proposal and give every resident of Nashville a chance to be heard before Metro's transportation solution goes to the ballot."
For more information about the plan and upcoming Community Open Houses, please visit www.letsmovenashville.com.