MEMPHIS, TN — Mempho Music Festival at Shelby Farms Park (memphofest.com) today announced its food & beverage line-up for the weekend-long event taking place at Shelby Farms Park on October 19 and 20.
Super-VIP attendees and Luxury Box ticket holders will experience meals catered by renowned chef, Jimmy Gentry, whose Paradox Catering is considered among the best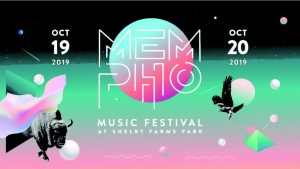 boutique caterers in the Mid-South and whose restaurant, P.O Press Public House & Provisions, is one of the most celebrated eateries in Greater Memphis. Access to a Super VIP lounge also includes plush lounge furniture; open bar serving premium craft beer, wine and cocktails; catered hors d'oeuvres; complimentary Wi-Fi; and charging stations for electronics.
For all attendees across the festival grounds, food will run the gamut from fast, hand-held snacks to complete meals to delicious desserts. A number of restaurants will also provide vegan and vegetarian cuisine.
Mempho Music Festival's official food partners will provide something for every taste:
• Corky's Bar-B-Que: Memphis-style BBQ
• Mempops: Hand-crafted popsicles
• Corndog, Inc.: Hand-dipped gourmet corndogs and deep-fried chicken tenders
• Peace Love Quesadillas: Unique quesadillas and specialty nachos 
• Doom Street Eats: Comfort food turned upside down into scratch-made street eats
• Pizza Nova: Oven-fired pizza
• Rice Rice Baby: Hibachi rice bowls
• Hebros Kitchen: Greek inspired hand-held wraps and loaded mac-n-cheese
• Tica's Burger Joint: Gourmet beef and veggie burgers
• Tica's Dank Nugs: Hand-breaded chicken nuggets and curly fries
• Grisanti 9DOUGH1: Made-to-order pizza served out of a mobile truck
• Island Noodles: Stir-fried noodles with fresh garlic, fresh ginger, a medley of 21 fresh vegetable
Regardless of ticket, attendees will be able to wash down the amazing food with drinks from Mempho Musical Festival official beverage partners MillerCoors, Jack Daniel's, el Jimador and Old Dominick, as well as non-alcoholic options from Coca-Cola and Monster Energy.
Local microbrewery Memphis Made will be offering a fruit infused pale ale as a Mempho Music Festival exclusive special brew. MillerCoors will offer multiple craft and local options, and Old Dominick will feature specialty craft-on-draft libations.
Mempho Music Festival will also feature a festival App that will not only guide attendees through the entire festival experience, it will even feature Order Ahead beverages at the two main general admission bars. Order Ahead will allow festival attendees to place a drink order in advance and pay through the App, then just swing by the bar to pick up the beverage. There will likely be a few contest-style surprises as a part of the App as well.
Headlining the festival are The Raconteurs and Brandi Carlile, along with Wu-Tang Clan, The Revivalists, Margo Price, lovelytheband, Valerie June, PJ Morton, DJ Paul of Three 6 Mafia, Matt Maeson, Reignwolf – and more than a dozen other artist and acts, including an incredible Sun Studio tribute.
For updates on the Mempho Music Festival at Shelby Farms Park and a complete rundown of times and artists go to www.memphofest.com, or follow @memphofest on Facebook, Twitter and Instagram. For tickets go to https://www.ticketmaster.com/mempho-fest-tickets/artist/2391029