By Logan Langlois
NASHVILLE, TN — Working under the locally loved slogan of 'BBQ so GOOD, PIGS are DYING to GET SMOKED,' Black-owned restaurant Smokin' Buttz has been giving their customers the very best in local Nashvillian Barbecue for nearly a decade.
"There is nothing that we do that is grilled or anything like that, it is all smoked meat," said Mylica Cathey, co-owner of Smokin' Buttz along with her husband John. She went on to describe how she doesn't believe that smoking meat quickly to order does the food or customer justice and that instead her restaurant prefers to smoke all their product for at least 12 hours.
Beginning around the end of 2013, word got around regarding John's lifelong restaurant experience, and he began getting booked out to help cater different events throughout the community. The two eventually bought a "red food trailer" and began catering weekend events throughout 2014, until in April 2016 when John was let go from his IT job as a JAVA programmer amongst company layoffs. It would be then that John and Mylica would talk about John turning Smokin' Buttz into a full-time job, given the increasing community support the two had been receiving. Eventually, the pair decided to give John's full-time commitment to Smokin' Buttz a two-month trial period to see if it could supplement the income he had made previously, and it exceeded all expectations.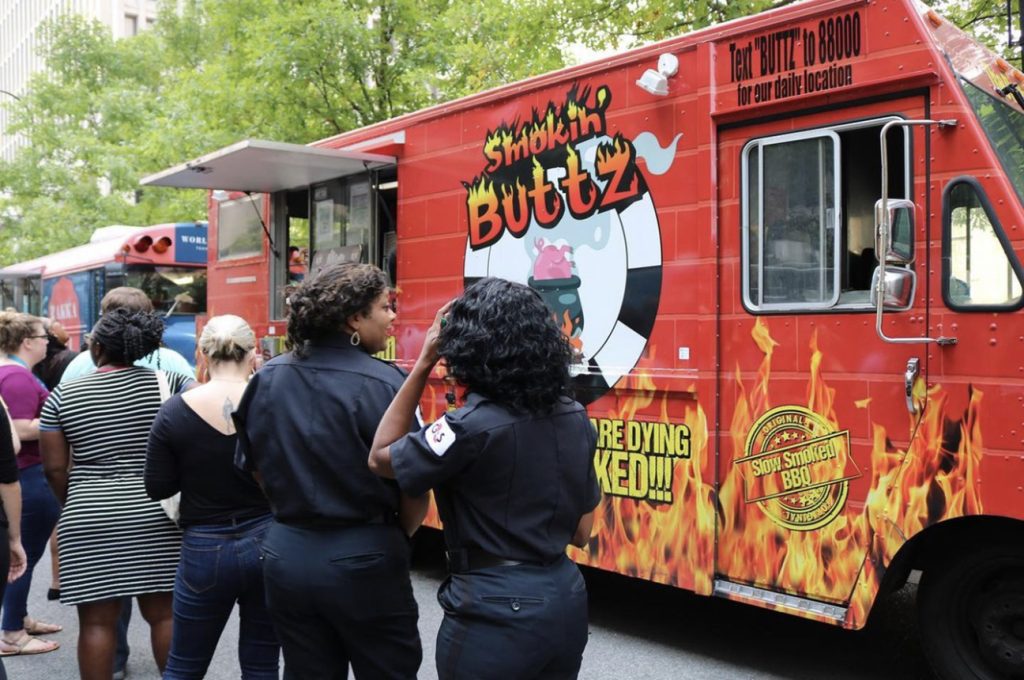 Since then, Smokin' Buttz has seen continuous success within Nashville and has been booked for major city events such as the Country Music Awards and the NFL Draft, as well as being featured in revered local news such as News Channel 5. They also have received a great deal of praise for their sauce selection, which has landed them exciting partnerships with respected names such as Kroger and Middle Tennessee State University. Their sauce is even displayed at the Tennessee Tribune store within Nashville BNA airport.
While in the food truck serving customers, Mylica says she's noticed that the 'Gut Buster' has become a fan favorite item amongst the crowd and was even the menu item specifically recognized by News Channel 5, though Mylica says that her favorite menu item is their loaded nachos. She continued that the most popular sauce served throughout the many locations available would be their signature white sauce.
"It's really not a bar-b-que sauce, we call it our anything and everything sauce. Because it literally goes on any and everything," said Mylica. "I have people tell me that they use it for salad dressing."
One thing that stands out about Smokin' Buttz is their catchy and entertaining name, which was pitched by John while the couple sat with their two young daughters in their home office trying to name their new venture.
"We were like, 'that's cool but will people take offense to that?'" said Mylica. "Because, you know, we're talking about butts."
They eventually tried the name and found it to be a success shortly thereafter.
"Everybody loves the name," Mylica said with a smile. "We'll get business and people will call us because they'll say, 'you know what, I just absolutely love your name.'"
Smokin' Buttz typically keeps their food truck schedule updated through their Instagram, @smokinbuttz, Facebook under Smokin' Buttz, LLC, and their website www.smokinbuttzbbq.com. Anyone looking for up-to-minute updates is also able to text "BUTTZ' to 8800 and be sent the current location of the food truck any given day.