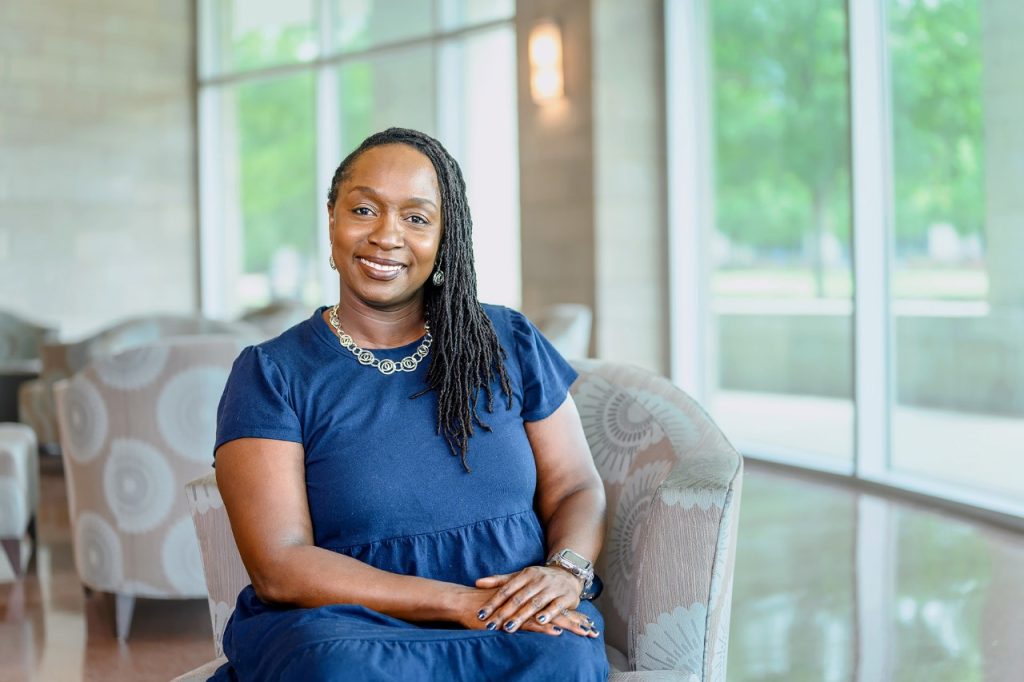 MURFREESBORO, Tenn. — MTSU College of Education staff are dedicated to making the best teacher preparation program and housing the most effective faculty and staff in the nation.
So when the Tennessee State Collaborative on Reforming Education, better known as SCORE, and the MTSU Education Trust came to a joint decision to recommend the college create a center for diversity, staff worked hard to make it a reality.
Two years later, the Center for Fairness, Justice and Equity at MTSU opened this spring.
CFJE Director Michelle Stevens values the collaboration with the students, faculty and staff at the College of Education that is a large part of her new role.
"Being able to collaborate … on various tasks like grant writing, curriculum assessment and advocacy has been rewarding and fulfilling for me as a lifelong educator and learner," Stevens said. "In addition to this personal and professional fulfillment, my hope is that the foundational work that we've done over the past several months has and will be truly beneficial for current and future COE students, faculty and staff."
As stated on its website, the center's vision is "to cultivate an inclusive and diverse College of Education by intentionally recruiting diverse faculty, teacher candidates and educational personnel from a multitude of backgrounds.
"Increasing diversity benefits the entire COE by yielding creativity, new insights, innovative skills and multiple perspectives."
SCORE's State of Education in Tennessee publication, which uses data from the Tennessee Department of Education toreport annually on the academic growth and achievement of Tennessee's students, upholds the CFJE's vision statement.
One of the report's many findings in recent years is the impact of the state's teacher workforce not being representative of the students being served. For example, about 38% of Tennessee students are people of color but only 14% of Tennessee teachers are, states the 2021 report.
"Research has demonstrated the academic and nonacademic benefits for all students, and particularly students of color, when learning with a teacher of color," the report continues, citing several published research studies to support this finding.
Reflecting 'universal human values'
The College of Education plays a key role in recruiting, retaining and preparing a more representative cohort of teachers to send into classrooms, and data shows a particularly concerning demographic mismatch between Black male students and teachers: only 2% of teachers are Black men.
Stevens and Rick Vanosdall, interim dean of the COE, navigated creating a center that addressed this dearth of diversity in people pursuing education and a tense environment surrounding the American public education system and inequality.
Their work centers on one goal: supporting a teacher preparation program with candidates, staff and faculty that can best serve all students.
"Dr. Vanosdall and I talked about the purpose of the center," Stevens said about its origins. "We brainstormed names. We wanted the center to transcend beyond diversity, equity and inclusion — to reflect universal human values. That's where fairness and justice came in."
In addition to recruiting education students from a multitude of backgrounds and espousing the values of fairness and justice, the center equips current COE students, faculty and staff with cultural competency training opportunities to help them be more effective at supporting all students.
"Dr. Stevens brings decades of experience, academic expertise, and professional credentials in addressing the needs of individuals from a broad spectrum of backgrounds," Vanosdall said.
"The Fairness, Justice and Equity Center is focused upon making sure every person experiences respect and support in their learning journey," he added. "That every person who graduates from our college — teacher, counselor, librarian, school leader — is prepared to be an effective force for fairness, justice and equity in their professional endeavors."
Originally from Ohio, Stevens' background in counseling, counselor education and multicultural issues plus her years consulting with multiple local school districts as a cultural competency trainer made her the perfect fit for center director.
"A lot of my interests have been rooted in cultural competency and diversity, equity and inclusion issues," Stevens said. "I help others see that when we teach, talk or communicate, we are doing that from our own point of view and world perspectives rather than considering the fact that everyone else is coming from their own perspective and worldview."
Most recently, the center offered a lunch-and-learn event led by Christina Cobb, assistant math professor, about inclusive teaching practices and partnered with the COE's Center for Educational Media to record it.
Since the center's opening, Stevens has brought on a graduate assistant and executive aide. Going forward, she plans to expand the website, collaborate with student volunteers, finalize fall semester programming and scout locations to physically house the center for the upcoming school year.
To learn more about the mission and opportunities available through the Center for Fairness, Justice and Equity, visit the website https://www.mtsu.edu/fjecoe/.