By Ashley Benkarski
NASHVILLE, TN — Nashville Organized for Action and Hope (NOAH) held a Run-Off Election Public Meeting on Sunday, August 27 at Fifteenth Avenue Baptist Church featuring mayoral candidate Freddie O'Connell and Metro Council At-large candidates Delishia Porterfield, Howard Jones, Burkley Allen, Quin Evans-Segall, Olivia Hill, Jeff Syracuse and Chris Cheng.
Mayoral candidate Alice Rolli declined NOAH's invitation to attend. Metro Council candidate Russ Pulley was unable to attend due to a family issue.
Candidates fielded questions from the audience and NOAH's four task forces: Affordable Housing, Education, Economic Equity and Jobs/Transportation, and Criminal Justice.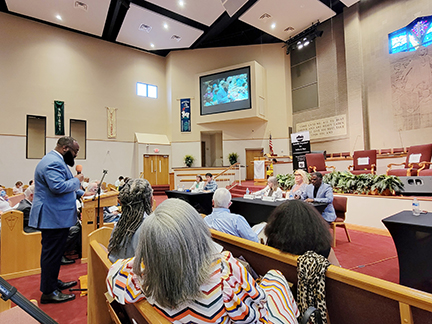 "This is NOAH's statement of purpose: NOAH attests that systemic racism exists in every aspect of our society, perpetuating injustices socially, economically and politically. It is NOAH's intent to help expose and dismantle racism and any issues it chooses to address, especially the focus areas determined by its members: Affordable housing, criminal justice, economic equity, and jobs, education. And when we speak about systemic racism, we're not referring to any individual or groups, racist statements or actions; instead, discrimination that is woven into the fabric of the systems by which our society operates and the policies that guide and direct our elected officials," said Rev. Davie Tucker, Jr., who co-moderated the event with Bishop Aaron Marble.
The meeting began with questions for O'Connell. Rev. Tucker opened, "In what areas of our civic life have you seen the effects of systemic racism?" O'Connell responded with a personal anecdote of being pulled over time and again for different reasons due to the matte Black El Camino he used to drive, but never actually receiving a citation. "Then, when I was elected to the Metro Council, we discovered that the car itself was a part of a process that was not about me as the driver," he said. He pointed to the findings of Gideon's Army's Driving While Black report. "You could see very clearly in the data in that report that there was a targeted process that I had an unusual lens into at a lived experience level."
He also noted glaring disparities within the school system, particularly in suspension rates for young students of color. "The other thing we saw was that an aftercare program that was using space at a school was limiting enrollment in a way that advantaged those who lived closest to the school, but limited opportunities to access for students that were typically coming from communities of color that also happen to have fewer economic advantages . . .
And it was causing working class access issues to the school as a whole."
Asked about the recent trend of organizations curtailing, changing or dismantling their Diversity, Equity, and Inclusion (DEI) efforts and its impact on progress and workforce representation, O'Connell responded that he'd use data from the IncluCivics report (https://www.nashville.gov/departments/human-relations/inclucivics) for staffing across the whole of Metro government.
Transitioning to the at-large council candidates, the issue of affordable housing was first to be tackled, with the continued funding of the Barnes Housing Trust Fund and streamlining the permitting process being echoed by candidates. Wage increases, transit, and the development of mixed-use properties were also mentioned. "We have to make sure that there's equitable density across the city and not just clustering low income housing in Madison, Antioch and North Nashville . . . We also need to make sure we're working with developers to get true community benefits agreements and not watered down MOUs (memorandums of understanding)," said Porterfield.
Candidates were next asked, "NOAH worked alongside others on the successful 2018 voter referendum that established a community oversight board. In 2023, the state preemptive action revamped Nashville's Community Oversight Board into a Community Review Board with significantly stripped down powers. Will you work to ensure full funding for this new board and how will you work with the Council so that it is able to ensure transparency and accountability while building community trust with Metro's Police Department?"
All candidates affirmed their support for funding for the board and that holding law enforcement personnel accountable was crucial, while at the same time urging the utilization of the Council's subpoena powers to ensure State decisions don't override Nashville's democratic process.
Candidates were asked if once they were elected whether they would support increased funding to ensure equitable outcomes for all students, and all answered in the affirmative.
More reporting on the event can be found at tntribune.com.
You can find video of the event at NOAH's Facebook page (https://www.facebook.com/nashville.justice/).
The run-off election will be held Sept. 14. All early voting locations are open until Saturday, Sept. 9. Visit nashville.gov/departments/elections for more information.