By Nashville Stars Baseball Club
NASHVILLE, TN — For many builders, a practice in New York City is the pinnacle of design and real estate development success.
However, for Nashville Stars Real Estate Development Advisor Cheryl McKissack Daniel, the national view from her NYC office truly showed her the way home.
Recently, McKissack Daniel was comfortably at "home" as she spoke at the Tennessee State Museum on the legacy of Black entrepreneurship in Tennessee, a legacy that her family and she have helped create over the past century of business. She also talked about how the view of her hometown from the perspective of the big city showed her that she needed to be back in Nashville.
As president/CEO of McKissack & McKissack, she represents the fifth generation of her family's century-old business, the oldest minority and woman-owned design and construction firm in the nation. In 2000, McKissack Daniel purchased and reestablished the family firm, originally incorporated in 1905, from her mother (Leatrice McKissack), as sole owner.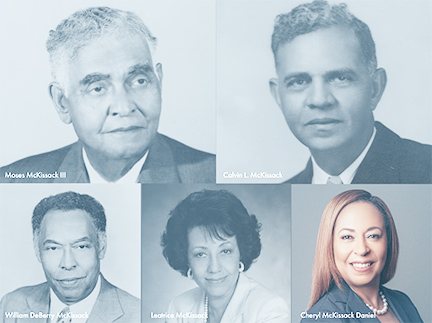 In speaking with us this week, McKissack Daniel said the opportunities in Nashville and particularly in North Nashville are compelling. "Running a business in New York and talking about opportunities with my colleagues, all they wanted to talk about was what was happening in Nashville," McKissack Daniel said. "I knew that opportunities in this city were sparse in the 90s; they are plentiful now. That's why we are reintroducing McKissack to Nashville, to share our perspective of where we have been as a company and how we are responding to this new vision of Nashville. We want to take our experience in New York and our history in Nashville to let everyone know that there is opportunity."
McKissack Daniel is advising the Nashville Stars on an array of development project opportunities that will be a focus for Major League Baseball in Nashville. The Stars are currently evaluating an area of land on Tennessee State University's campus for developing a world-class entertainment venue that would be the home for a Major League Baseball franchise. The organization is focusing on a diverse investor group with the goal of becoming the first MLB franchise to have majority Black ownership.
As the Stars explore the possibilities of a site next to TSU, McKissack Daniel is clearly enthused.
"I grew up next to TSU," she exclaimed. "It was my source of entertainment, always a great place when I was growing up. I loved to go to the football games, loved to go to the cafeteria and enjoy the food, loved the band. When we talk about putting a stadium near TSU, we are talking about an opportunity to build up an area that has been ignored, and to build it up with Black people, who have also been overlooked. This is a place that can grow like the rest of Nashville, and economic equality is what will be the result of this effort."
McKissack Daniel has more than 30 years of experience in all phases of the design and construction industry. She has been involved with many large projects nationwide, including the new $9.5B Terminal One at JFK International Airport, LGA Central Terminal Building Redevelopment and Coney Island Hospital Campus Renovation. In addition, she has served for nearly 15 years as the MTA Independent Engineer Consultant, overseeing the Capital Construction Program of the nation's largest transportation system.
Locally, the firm was involved with the Carnegie Library at Fisk University, Pearl High School, and helped develop parts of North Nashville, including several buildings on Tennessee State University's campus. The gem, in McKissack Daniel's eye, remains the Morris Memorial Building in downtown Nashville. "It is a beautiful building, and it is still Black-owned," she said. "That makes me proud, and I am hopeful it stays that way."
What will also make her proud is the Nashville Stars playing here. "To be able to bring light to Nashville and TSU by having a Major League Baseball team is a dream come true for me."
To attend this free session or watch online, visit TNMuseum.org.