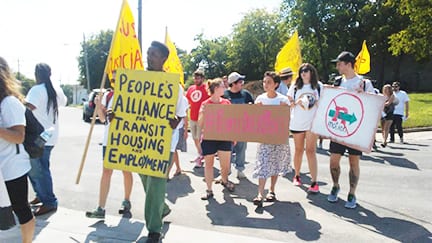 By Cillea Houghton
NASHVILLE, TN — In response to Mayor Megan Barry's announced plans for nMotion 2016, a $6 billion mass transit plan that includes a light rail, computer rail, rapid bus service improved infrastructure and more, a coalition of community advocacy groups have come together to form People's Alliance for Transit, Housing and Employment (PATHE) to raise concerns over the plans.
PATHE, comprised of Democracy Nashville, Homes for All Nashville, Music City Riders United and Amalgamated Transit Union Local 1235, is aware that Nashville is in need of a mass transit system, but are fearful that light rail proposed along Gallatin Pike, Murfreesboro Pike, Nolensville Pike and Charlotte Avenue will entice developers to purchase property along the proposed lines, causing housing prices to skyrocket.
They're also concerned that the bus lines in low-income neighborhoods relied on by residents will be eliminated. Patrick Green, president of the Amalgamated Transit Union, conducted research on the BART system in San Francisco and the Wake County Transit Plan in North Carolina to gain insight into how Nashville's plan may impact residents.
"One of the things that we discovered is that the property values increased sometimes as high as 400 percent. We also learned very quickly that rents along those areas, depending on the distance from the light rail line, went up anywhere between $30 and $150 a month," Green explained. He predicts that businesses and residents that live in the apartments near the Gallatin Pike corridor where the light rail is proposed will be directly affected.
Green also calls Barry's plans to install 31,000 affordable housing units by 2025 a "generous number," but advocates that with a budget of $6 billion, the city can "effectively do really, really good work as it relates to affordable housing and low-income housing." "Not only can we do job training programs; we need to effectively put a dent in low-income housing and affordable housing," he said. "There are good, quality jobs that will be created by this system and those jobs need to be represented by personnel that will make sure that they make a fair wage and that they receive fair benefits."
Kutonia Smith-Bond of Music City Riders United is calling on the mayor to build more low-income housing, add more routes to the bus line and institute 24-hour bus service, which she says should be included in the $6 billion transit plan. As a working mother, Smith-Bond is concerned that the light rail built in low-income neighborhoods will invite developers to buy properties and sell them at expensive rates, forcing out those on fixed incomes. She's also worried that the fares for the light rail will be unaffordable for low-income residents.
"We're not totally against it, but we feel like it needs to be fair. It needs to be a way that we can afford to ride it and we need benefits behind it," she said, adding that if they do build light rail, then more low-income housing units also need to be built, as not to displace people in the area. "We deserve our community benefits."
Howard Allen, a representative of Homes for All Nashville, says they don't want any land to be taken to cover the costs of the $6 billion plan and claims that half of the 31,000 affordable housing units should be used for low-income housing.
Green also said that mass transit "accelerates gentrification, simply because the cost of living is going to go up" and points to a friend who had to move out of her neighborhood when the homes around her began selling for north of $500,000.
"This is only going to exacerbate the problem that we have, but we can attempt to address it if, and only if, this city is sincere about its willingness to help its people," Green said. "This is a cause that we can all fight for. No one's looking for a handout here."