By Logan Langlois
NASHVILLE, TN — Whether they're rolling into your neighborhood with ice cream and a smile or waiting in their store looking forward to sharing something cold and delicious, co-owners of Rolled 4 Ever Ice Cream Bariangela Segovia and Maliyah Bass are ready to happily introduce new and old customers all around Nashville to their unique adaptation of the frozen dessert. The pair have done so to great public delight since opening their business in June of 2018, being featured in both national as well as local publications including Good Morning America, News Channel 5, and Daily News Journal. The idea came to the sister-bonded duo while they both visited New York during their college junior year spring break. While there, they experienced Thai-inspired rolled ice cream for the first time and realized that Nashville had a gap in its market for such a "cool concept."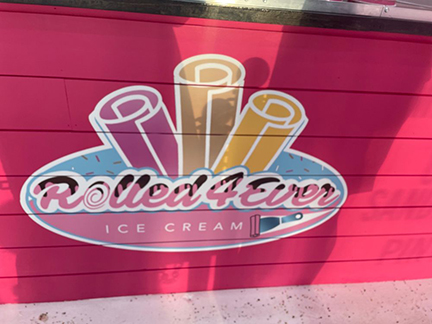 The pair would later go in together, kicking it off with their food truck thinking that it would add another unique spin on an already unique idea. When considering what they were going to name their new project, the two wanted to be sure that they had decided on something meaningful and communicated who they were and what they were setting out to accomplish.
"We handcraft rolled ice cream, so that's where the 'rolled' came from. Our favorite number is 'four', and we've 'rolled forever' since we're best friends and we've known each other since we were seven and eight. So that's kinda how we came up with the name," explained Bass.
In a short period of time, especially for a newly established business, the pair gained both the capital and public support needed for them to later open their first own brick-and-mortar location within Nashville's Germantown at 1120 4th Ave N in October of 2020. The success of their business is reflected in the 11 employees they have been able to hire to support their growing operation, and their local celebrity is obvious with the following the two have established over social media, touting such numbers as 13.5 thousand followers on Instagram and over 5,000 followers on Facebook.
Since first gassing up their truck and opening their doors to serve ice cream, Rolled 4 Ever has noticed a couple of their options rise to the top of customer favoritism above all the rest. Some of the most popular options they offer are the Monster Attack, which is their own twist on the classic cookie and cream flavor, and Cake By The Pound, which is strawberry cheesecake, and Coco Fever.
"My favorite's Coco Fever which is chocolate and brownie," said Segovia after Bass disclosed that her favorite ice cream switches by the day, though it's most consistently Cake By The Pound. "I like a lot of flavors as well, but that's definitely a go-to."
When handcrafting the unique look of their ice cream, the dessert is placed on top of a cold plate that is meticulously kept at a temperature of -15°F throughout the process. The ice cream itself consists of a home-made base created by Rolled 4 Ever which is then mixed with additives that vary between each recipe. Rolled 4 Ever is available to be followed on their social media under Rolled 4 Ever Ice Cream, as well as on their website www.rolled4ever.com where patrons can sign up to take a class and learn how to roll their own ice cream.