NASHVILLE, TN — In a 5-3 vote, the Metropolitan Nashville Board of Education decided Tuesday to buy out the contract of Metro Nashville Public Schools Director, Dr. Shawn Joseph. Dr. Adrienne Battle will serve as interim director.
In a statement Joseph said it was his life's mission to ensure equity and excellence for all children and the he would continue to do so. "I believe much has been accomplished despite the pervasive challenges I encountered when arriving, and I am so proud of the tremendous work of the thousands of teachers and staff members who have helped to move the needle for our children," Joseph said. 
The terms were negotiated between Joseph's lawyer and Metro Legal director Jon Cooper. Metro will pay Joseph's attorney's fees. The board approved the agreement Tuesday night.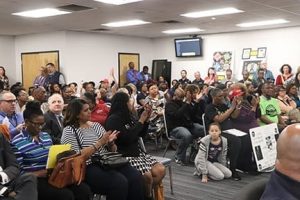 Joseph's last day will be Friday, April 12, 2019. There were ten parts to the separation agreement, a couple dealing with potential lawsuits. Board Chair Sharon Gentry summarized the buyout agreement that required both parties to refrain from "talking bad" about each other in the future.
 "We have obviously reached an impasse," said Amy Frogge (District 9).
 The board has been sharply split about Joseph's leadership for months. Vice Chair Christiane Buggs, reflecting on the rift that has pushed Joseph out, said the board has tried to be Joseph's boss and tell him what to do instead of helping him manage the district and the challenges facing Metro schools.
"Dr. Joseph is ready to go and leave what amounts to hostile working conditions so this a voluntary separation conversation. This is not a firing," said Will Pinkston (District 7). Board Chair Sharon Gentry agreed.
"We are not terminating him. This is not a blight on his resume. It was, as he stated in his own statement, that it's gotten to the point where he does not believe that the things that he values are aligning with the district, with the board specifically and it was time for us to part ways," Gentry said.
 Amy Frogge (District 9) then read a statement attacking Joseph and criticized his handling of the school budget, sexual harassment complaints, and blamed him for low morale among teachers and staff. She also criticized the board for an "an epic failure of the board's oversight capacity with regard to fiscal operations".
 "I don't personally believe that throwing out any number of allegations or accusations is holding the director accountable. We did not hold the director accountable because we did not do our part. It was our job to review the contracts. It was our job to follow up with Metro Legal if there were issues with contracts," Buggs said.
School Board Chair Sharon Gentry, Rachel Anne Elrod, District 2, Vice Chair Christiane Buggs (District 5), Will Pinkson (District 7), and Gini Pupo-Walker (District 8) voted for the deal to give Joseph three months severance pay and $261,250 for the final year of a 4-year contract signed in July 2016. Jill Speering (District 3), Amy Frogge (District 9, Fran Bush (District 6) voted against the deal. They wanted Joseph fired. Anna Shepherd (District 4), who had also wanted to fire Joseph, did not attend the meeting.