WASHINGTON — On February 1, Secretary of State Antony J. Blinken led a celebration to honor Ambassador Terence A. Todman, a pioneering Black diplomat who railed against racial inequity and discrimination within the State Department. The main cafeteria at State Department headquarters in Washington has been renamed in Todman's honor, more than six decades after he fought to end segregation within the Department. You can watch and read the full remarks here and read excerpts below.

Ambassador Gina Abercrombie-Winstanley:
"But just over six decades ago, this was not the case. It couldn't be. At the Foreign Service Institute across the river, Black diplomats could not eat with their colleagues due to Virginia's segregation laws. In 1957, a young American diplomat named Terence Todman would go on – who would go on to become a six-time ambassador, decided to speak up. Because of Ambassador Todman's courage in the face of injustice, the department eventually leased a dining facility so that Black Foreign Service officers could be treated equally and with dignity."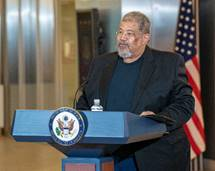 Terence Todman, Jr: "So as my father's son, I can't let the moment pass, not only without celebrating the small steps, but also noting how much is left to be done – not only in the department, but also around the country at large. He held the belief that with persistence and good faith we can and would succeed."

Secretary of State Antony Blinken:"To try to grasp all that Ambassador Todman achieved, it's important to understand the State Department where he made his indelible mark. In 1926, when Terence Todman was born to a laundress and a grocery store clerk … the department was almost entirely white and entirely male. Todman knew how much was missed when certain people were overlooked, ignored, not heard, because of who they were or how they looked. For him, there were no less-thans – only fellow human beings. This, as you've heard, is what so rankled him early on in his career, about not being able to eat in a nearby restaurant while studying at the Foreign Service Institute. It wasn't just the indignity of it, or the fact that, at the same time they were being trained to represent the United States abroad, they were being treated as less than equal at home.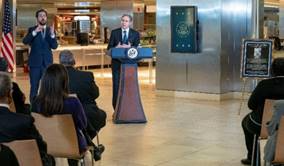 And that's exactly, exactly what we're so inspired by today. That's exactly why there's a direct thread between Ambassador Todman and the work that Ambassador Abercrombie-Winstanley is doing, that we're doing together, to make sure that we have a department that reflects the country that we serve, that reflects the best of our country in all its diversity, in all its strength. To do otherwise – to do otherwise is to shortchange our country. And it's thanks to Ambassador Todman that we are carrying out this work. This is his legacy, too. It's the reason he spent his career trying to change the system from within, so that it would attract and promote outstanding Black diplomats. It was a point he raised in every meeting that he ever had with a secretary of state – and he met more than his share, and worked with more than his share. And as he said, and I quote, "I have always contended that you don't do this for minorities, you do this for the United States. We need, as a country, the very best input that we can get." And that's exactly what this is about."
See also:https://twitter.com/SecBlinken/status/1488659418136952833?s=20&t=g-Dj1qEbhfJg0vNJECTocg