By Ashley Benkarski
NASHVILLE, TN — St. Pius X Classical Academy expanded its student body this year thanks in part to a grant initiative that provided tuition assistance for families hoping to enroll their child in the school.
Part of the Diocese of Nashville's Advancement of Catholic Education program, the ACE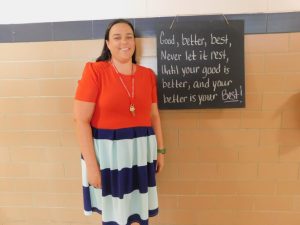 Welcome Grants extend the opportunity for a rigorous, classical education to students in need, covering half the tuition for the first year of enrollment and a quarter of the tuition in the second year.
Principal Lori Patton noted that student enrollment had increased 25 percent this year due to the grant and a growing interest in the academy, with 15 new students joining the close-knit community the school has become known for.  Applicants had to be new to Catholic education as well as meet the academic requirements for St. Pius to qualify, she said.
Tucked away off Trinity Lane, the school provides students in pre-K to 8th grade a quality education while adhering to the values of the Christian faith, emphasizing service despite sacrifice and social justice, Patton said. The academy allows children to grow in their faith as well as their education, providing a learning space that embraces diversity–about 60 percent of the students identify as Catholic while 40 percent practice some other form of Christianity. They all come together every morning for Mass to worship and prepare for the day ahead. Additionally, the school boasts racial diversity; a majority of the student body is black.
Lauryn Stewart, 13, loves math and engineering and described the community atmosphere of St. Pius as "supportive and encouraging" and appreciates being able to "grow our own religion."  
That's also what students Matthew Ajak, 10 and DeAja Marshall, 9, extolled about their school. Ajak, who hopes to go into the healthcare field one day, said the school has made him more aware of the needs of others and enjoys doing the service projects the school engages in, especially "those who help people eat."
This is Marshall's first year at St. Pius, but she already feels at home and was all smiles speaking about her experience so far. She's grateful the school "helps me learn about Jesus," she said. She loves gymnastics and has her eyes on the Olympics. Her sister also attends the school, another bonus for Marshall.
In addition to new faces, the school received a fresh coat of paint, updated LED lighting throughout both buildings and a new roof and floor for the gymnasium, with more improvements planned in the future. Patton also noted the recent creation of a Social Justice Club for its middle school students, allowing them to become more involved in advancing equity in the world around them.
The academy will be celebrating its 60th anniversary next year, the original bricks that were hand-laid by parishioners in its infancy still standing. Patton warmly recalled a parent's description of the school as a "hidden gem," and her dedication to the school is a testament to that: she spent eight years teaching fourth-graders before stepping into her current leadership role several years ago.  
For her part, Marshall urges families who seek a faith-based curriculum to come visit the school. She also wants kids coming from different schools to be unafraid of the change. "Never doubt yourself," she said.
St. Pius offers open enrollment so families can apply anytime. The school also provides before- and after-care for parents whose work schedules require flexibility with rates starting at ten dollars per day. To apply for enrollment at St. Pius X Classical Academy, visit the school at 2750 Tucker Rd. 
The annual ACE Dinner and Fundraising event will be held Sep. 17, 6:30 p.m. at the Cathedral of the Incarnation's Fleming Center located at 2015 West End Ave. To support the ACE program or to attend the dinner, visit dioceseofnashville.com/ace.