By Clint Confehr
COLUMBIA, TN – Maury County's Board of Education must take steps toward polling teachers this winter on whether they want working conditions subject to an agreement from "collaborative conferencing" under a state law that replaced union negotiations.
That's according to Maury County Chancellor Robert Jones' order which includes a finding that voting patterns during an on-line poll in 2015 were "fishy," a term attributed to J.C. Bowman, executive director of Professional Educators of Tennessee. PET competes with the Tennessee Education Association.
Collaborative conferencing with Maury County Education Association members here in June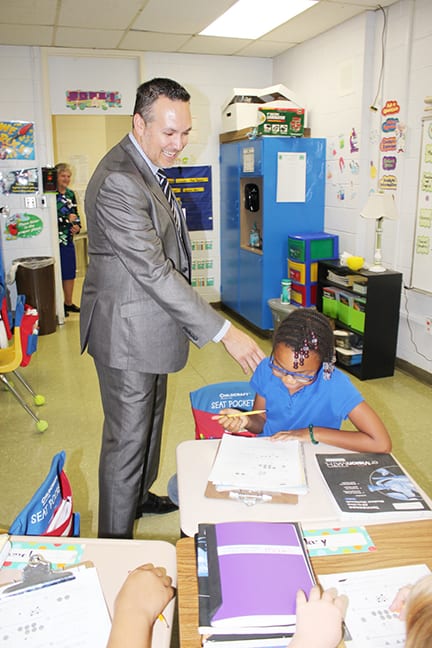 2016 resulted in a memorandum of understanding that "pertained primarily to changes in 'leave' for teachers and an increase in teachers' salaries," the court states. If approved by the school board, the memo would have prompted a 5 percent pay raise in 2016-17. Maury's school board did not vote on the memorandum of understanding, one of several complaints in the case.
"Educators statewide stand to benefit from a summary judgment … reinforcing teachers' rights under the Professional Educators Collaborative Conferencing Act," TEA says.
More than three decades ago, teachers in Tennessee could be represented by county education associations serving as agents in collective bargaining toward county work contracts. In 2011, state lawmakers stripped teacher associations of the authority to act like a union for work contracts. The 2011 law refers to "collective conferencing" and a "memorandum of understanding" after teachers vote on what organization they want to represent them.
Maury County Schools Director Chris Marczak used his personal "Google Docs" account to host a 2015 poll conducted to determine whether Maury County schools' professional employees wanted to be represented by MCEA, or a local chapter of PET, the court order explains. There was no protection against people voting more than once. Preliminary results from 10 days of on-line polling showed MCEA won "overwhelmingly." Polling was reopened and PET received more votes. Analysis of that second round of voting shows ballots cast only for PET every 40 seconds during a 50-minute period. PET received about a third of all 760 votes.
Calls, texts and emails to Marczak and his spokeswoman resulted in no statement after several hours on Tuesday. Marczak was attending a meeting of school superintendents out of town. He attended a school board "workshop," a non-voting meeting, Monday night by Skype, his spokeswoman, Kim Doddridge said.
Former board member Carey Powers was on the board when it was sued and said, "I don't trust Dr. Marczak." Powers declined to make another statement on the subject.
Several other board members reached for comment referred calls to Jake Wolaver, the board's attorney. Wolaver's office was called mid-day Tuesday. Messages were left for Wolaver, Marczak and several board members.
Board member Jim Pennings expressed "regret" over the entire situation, explaining that Jones' order for another poll of teachers "is a poll that has to be taken every three years. This is the time. It's coming automatically." Pennings suggested "…contact the union … We don't take the poll. They do."
Pennings read the 14-page order. It was presented to the board by Wolaver during a closed attorney-client meeting. Pennings said "it's against the law" to talk about a case in public, he said, then acknowledged the case is over now.
Does Pennings regret that the whole thing happened? "Naturally, we regret; everybody would, I think, I'm not speaking for them. For myself, I regret it happened, but I didn't have any control over the situation."
Pennings was on the board when the suit was filed.
TEA says it sued for MCEA after a series of "unlawful acts" by Maury County Public Schools district leadership, including unauthorized changes to the Memorandum of Understanding, and the school board's refusal to vote on the MOU agreed upon by the collaborative conferencing team.
"The actions detailed in this lawsuit demonstrate a clear violation of the Professional Educators Collaborative Conferencing Act," said Steve McCloud, TEA assistant executive director of legal advocacy. "The judge's ruling reinforces the strength of the PECCA law and acknowledges that there is a requirement of good faith implicit in the law."
The summary judgement was filed Aug. 30 after proposed settlement documents were submitted by attorneys for both sides.
Jones' order concludes that: the local association will not be required to repeat the "show of interest" process; a new poll must be provided with proper controls in place to ensure only county teachers are able to vote and each person is only able to vote once; the county school board must vote on the MOU that's presented; collaborative conferencing may not be circumvented by an appointed "Teachers Council" created by the district; and that there is a requirement of good faith implicit in the Collaborative Conferencing Act.
"MCEA membership has grown in recent years because teachers know that we're doing the hard work to ensure their rights are upheld," Maury County Education Association President David Huebner said. "It's all about the quality of teaching and learning in our schools. This is a victory for Maury County Public School employees. We believe this ruling will help Maury County educators, and educators statewide engaging in collaborative conferencing, to move forward in a way that allows teachers to have a strong voice in their working conditions."