NASHVILLE, TN – Their paths converged at City Hall on Thursday, May 16. Hundreds of school teachers, some wearing red and some black t-shirts, marched over the John Seigenthaler Pedestrian Bridge and rallied at Public Square. Meanwhile, MNPS officials went inside to tell the Budget and Finance Committee that Mayor Briley's $914.5 million school budget falls $50 million short of providing even the barest necessities for Metro's 82,000 students in 157 schools.
"The budget that the Board of Education proposed and approved is based upon what the board believes are the essential priorities necessary for success," said School Board Budget Chair Anna Shepherd. Shepherd didn't say what it would take to fully fund Metro Schools but it's probably around $1 billion.
Shepherd, Acting Director Dr. Adrienne Battle, and MNPS Chief Operating Officer Chris Henson laid out a $963 million school budget with raises for teachers and support staff amounting to $58.5 million. It includes $2.12 million pay raise for bus drivers and monitors with an attendance bonus. It commits $1.4 million to continue a pre-k program with 24 teachers after federal funding runs out in December 2019. It spends $1.5 million on IT upgrades and pays for a new Oracle R12 computer system for human resources.
While it has been years since teachers saw a pay raise, it's also been years since Metro students had their own textbooks. The budget has money for history and social studies texts as well as science kits.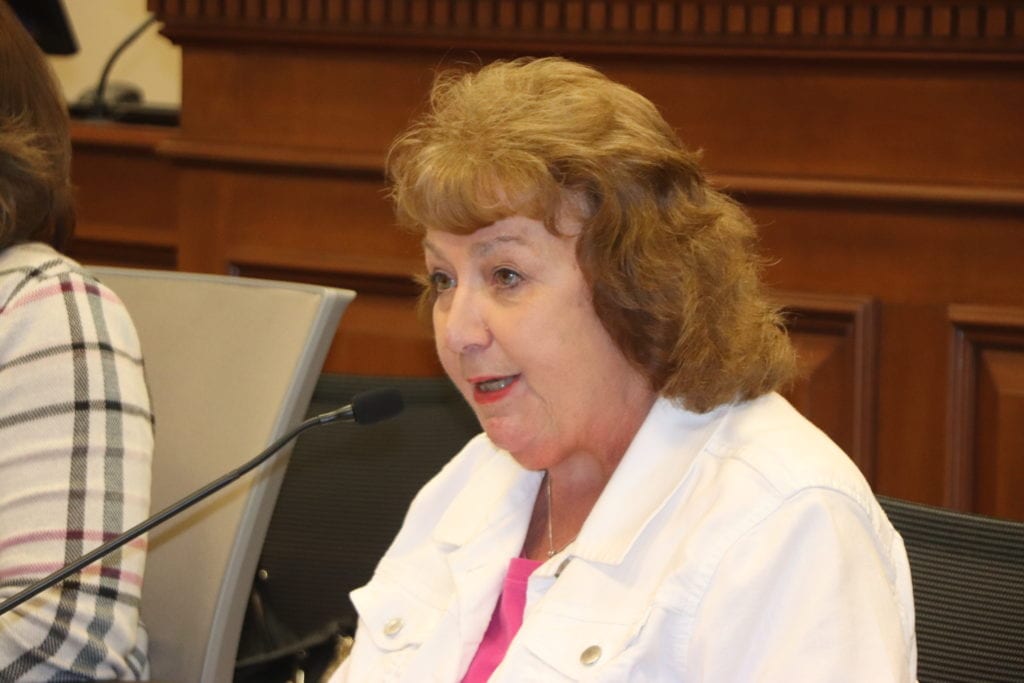 "Every student needs a text book. Period. We need to be working towards that goal," Shepherd said. Shepherd noted she had a textbook when she was in school and noted that we need to insure children have the resources adults had several decades ago.
On Thursday, more than 1,000 teachers took another sick day and gathered on the steps outside City Hall holding signs. Coming after more than a year of organizing support for themselves and Metro schools, the atmosphere at Public Plaza was upbeat, even festive.
Teachers are anticipating a minimum 10% raise with a step increase backdated to the 2017-2018 school year.
"We need to show Metro Council that we're here. You know, Dr. Battle and her team are inside. We're standing behind them. We're here. The teachers are here!" said Amanda Kail, spokesperson for the Nashville "Red4Ed" teachers. Then teachers chanted "Three Percent Won't Pay the Rent!"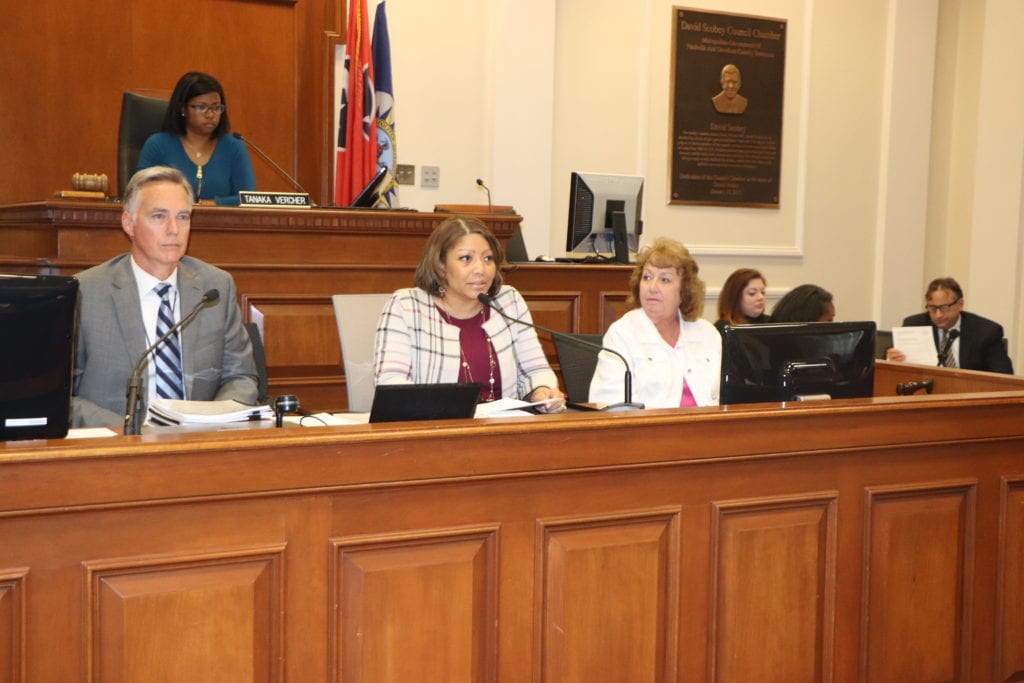 Inside City Hall Adrienne Battle, Acting Director of Schools, and Chief Operating Officer Chris Henson, and Board spokesperson Ana Shepherd were delivering that message.
"Without hesitation the board agrees that improved employee compensation is the most critical investment we can make for our students. It is no secret teacher and support employees are the heart of everything that we do. Without them we simply do not have functioning schools," Shepherd told council members.
"We're sick of being underfunded. We're sick of being overworked and we're sick of having a lack of respect that is due to us as professionals," said Olivia Lucas, 6thGrade English teacher at Thurgood Marshall Middle School in Antioch.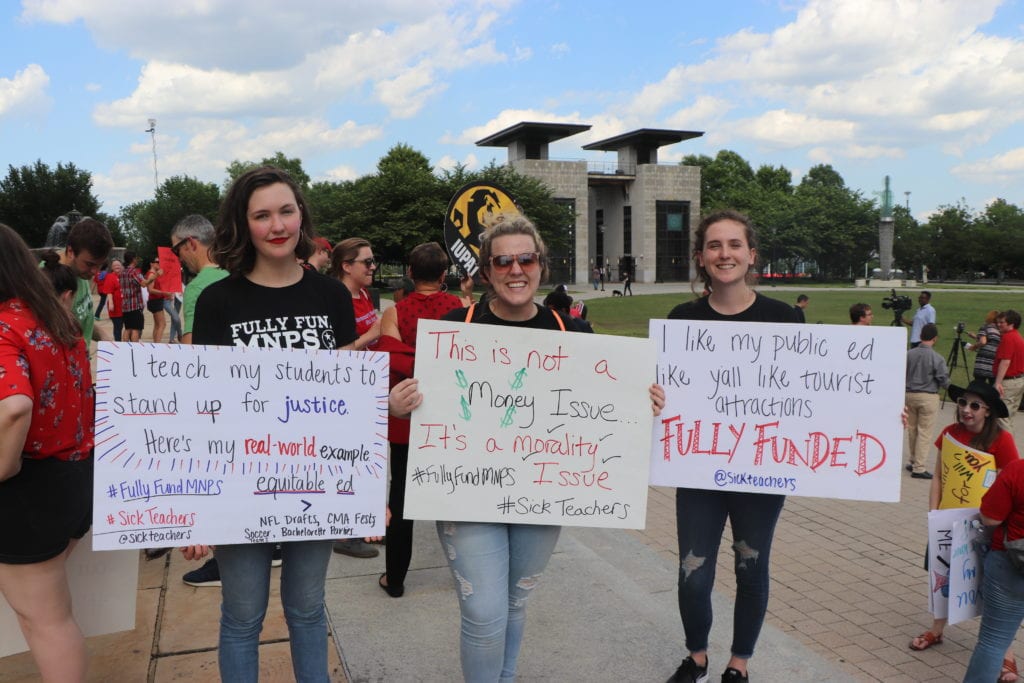 Lucas is active with the Nashville "Sick Teachers". She and her colleagues all have Masters degrees. "We're professionals and we are not given a living wage. We have multiple roommates to survive. We really want to be able to just literally live in the city. A lot of my paycheck goes towards rent and a lot of it has to go back to work for students in the classroom," she said.
Mary Alice Stovall teaches ESL at McGavock High School. "We're out here not only for ourselves but for our students as well. We became teachers because of our passion, our calling. We want to keep keep serving our students but we can't keep doing that if people are in and out the door constantly. Where all the textbooks? Where's the quality curriculum?" she asked.
Back in council chambers a number of members asked questions about changes in the budget and MNPS's latest priorities. Councilman John Cooper wanted to know if $2.7 million in the MNPS operating budget would wind up going to fund development loans made by MDHA. "That is correct," said MNPS COO Henson. Briley's budget sets all non-MNPS city workers' pay at a $15/hr minimum.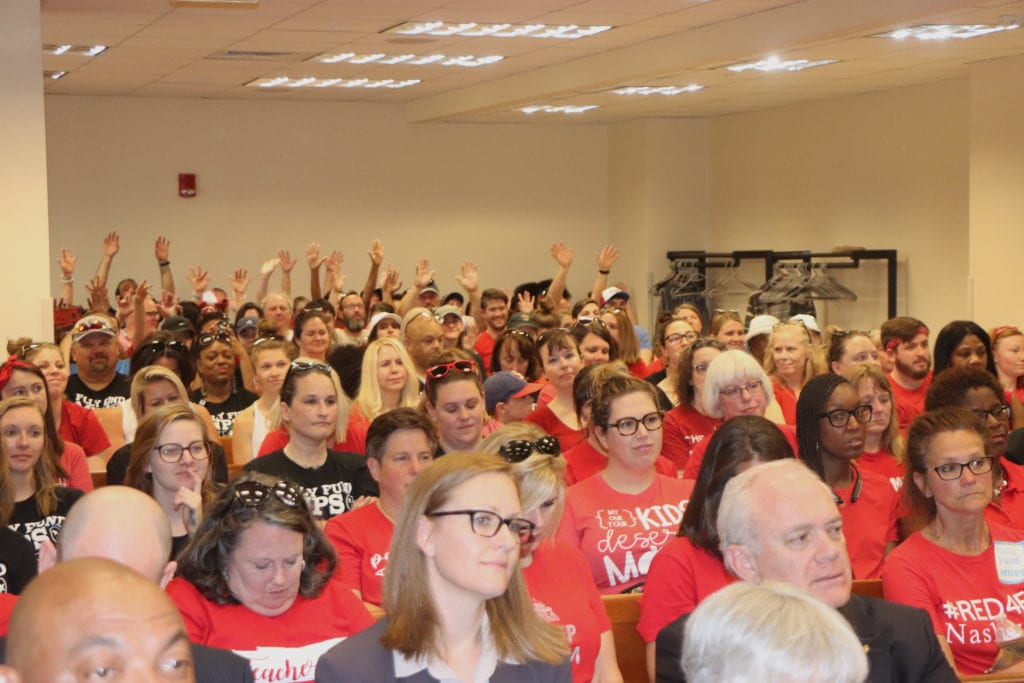 "If we were to bring all of our employees up to the $15/hr. floor that would affect over 1600 employees within Metro schools and have a cost of $5.2 million," Henson said.
Henson also said each 1% cost of living raise would cost MNPS $5 million and each step increase would cost $8 million. MNPS debt service payments are expected to be about $7 million and Metro's total debt payments will total $44 million next year.
"Increased debt service is the number one challenge in schools and city funding," Cooper said. Metro Council will vote on the MNPS budget June 4.