By Ronni Smith
NASHVILLE, TN — Most people aren't aware of the history in some of their favorite places. For visitors to Dunbar Cave in Clarksville, Tennessee, that's all changed.
Last summer, the area got an historical marker dedicated to the site of what was formally known as Affricanna Town, a small encampment of recently emancipated Black Americans that existed from around 1864-1867. Dunbar Cave's park manager, David Britton, told its story.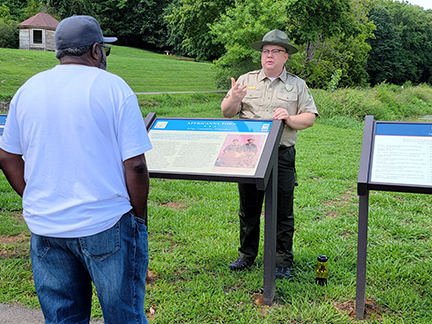 A refugee camp founded by formerly enslaved people in the area, the site's residents probably came from two nearby plantations belonging to the Barker and Warfield families. Britton estimated there were around 85 known people enslaved in the area. "This is a place where these folks who had been enslaved, and at one time did not have the ability to make decisions for their own lives, now had that ability, and they were doing it for the first time right here on this ground," he explained.
Though the encampment was built by and for the emancipated residents, its name came from white people in the area, possibly first coined by enslaver John Barker. It's unfortunate that we don't know what the residents had named their home.
For Britton, who has been working in the park service for 17 years, this was an opportunity to merge his love for nature and history. "For me, researching and writing and learning about history is my passion, and then being able to tell that to the public is even better."
Britton said telling these stories is the reason he does what he does. "When I came on board as a park manager here at Dunbar Cave and Port Royal, it was important to me that we included more than white voices, right? Because there's a lot of stories here at Dunbar Cave and Port Royal," Britton said.
Unfortunately, much of the evidence of the area and those who lived there has been lost and we may never know the full story of this historic site, but we do know that it begins with indigenous Americans, who left paintings upon the cave's walls.
Britton said that the only evidence they could gather about Affricanna Town came from Freedmen's Bureau records. Those records, which included journals from the time, provided Britton and his team with a name of a probable resident: Giles Davis. It is believed that many of the town's residents after emancipation were families of the United States Colored Troops.
At the entrance to Dunbar Cave, markers can be found detailing the history of the landscape and naming some of the formerly enslaved Black Americans who lived in the area at the time. One such name is Colin, a 14-year-old boy who threatened to shoot his enslaver, John Barker.
Britton said it's important to tell the full story of these places because in doing so you create pathways for empathy. "Heritage is important, because heritage is what informs our identity," he explained. He wants people to understand that their heritage—their identity— as part of this community is a lot more diverse than they thought. Britton said, "The land that they stand on has a story much bigger and much deeper than the story they think they know." Some people living in the Clarksville area (and beyond) may have ancestors from Affricanna Town that they don't know about. Last summer when the markers were revealed, documentarian and Clarksville native Frederick Murphy was there to film it. Murphy has produced a number of films illustrating the rich history of Black Americans throughout the South.
Though Affricanna Town was lost completely by 1872 and the land developed into a resort, the encampment, its residents and its stories should never be forgotten.
For more information on Affricanna Town visit the historical markers database (hmdb.org) and search the name, or visit historybeforeus.com