By Clare Bratten
HUNTSVILLE, AL. – Fifth and sixth-grade teacher Allison Booten of Memphis and sixth-grade science teacher Nicole Lyke of Leipers Fork won two spots in the two-week long Honeywell Educators at Space Academy — a space camp for middle school science, technology and math (S.T.E.M.) teachers at the U.S. Space & Rocket Center in Huntsville, AL.
Allison Booten and Nicole Lyke joined 200 other S.T.E.M. teachers from around the world and experienced what it is like to walk on the moon, or escape from a lunar hatch in a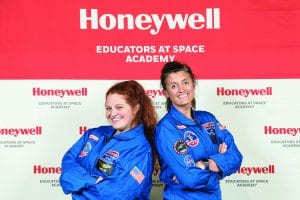 water landing. They also conducted experiments, ran a mission as part of a team and will come back to school with experiments and ideas to improve their science, technology and math classes. The program is funded by Honeywell and is free to S.T.E.M. teachers who apply and are accepted. Booten and Lyke urge other S.T.E.M. teachers to apply.
Nicole Lyke was motivated by the guest speakers such as astronaut Clayton Anderson (who also spoke to a space camp for kids at the facility), and Ed Buckbee who was the first director of the Alabama U.S. Space and Rocket Center in Huntsville, AL and worked with all the Apollo, Mercury and Gemini astronauts and wrote "The Real Space Cowboys."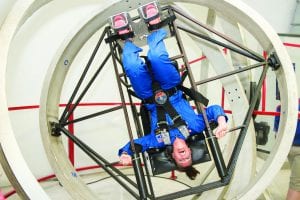 Guest speaker Homer Hickam who wrote the novel "Rocket Boys" (the basis for the film "October Skies") emphasized how important it was for teachers to keep inspiring kids and said that a science teacher had inspired him as a boy to keep working on building a rocket.
The vision of inspiring the scientists of tomorrow was what motivated both teachers. Both were inspired to apply for the camp by the enthusiasm of other teachers who had attended the camp and told them to apply.
"The group we are teaching now are the Mars generation – the ones to take us to Mars," said Lyke. "I got a lot of great engineering ideas such as using a programming program (called Raspberry Pi) to track the velocity of bottle rockets we build in class."
For Allison Booten the space simulators were especially memorable.
"The Multi-Access trainer chair spins you in all directions – gives you the feeling of free fall as in a landing.  The One-Sixth chair – recreates the feeling of 1/6th of your body-weight gravity. Since moon has 1/6th the gravitation field, the chair has a huge spring attached to it – almost like in a harness. The spring is attached to the ceiling and allows you to bounce along much as you would on the moon."
Team members were assigned roles in a mock space mission.
"I was a soil scientist – we analyzed different samples of rock and soil to see if it was a good place to set up a community on Mars," Booten said.
The camp's 45 hours of classroom and laboratory instruction focused on science, space exploration and leadership skills development. Exercises such as high-performance jet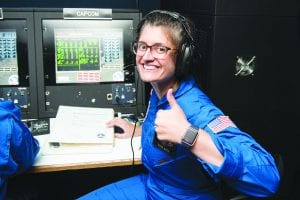 simulation, scenario-based space missions, coding challenges, land and water survival training and interactive flight dynamics programs gave teachers ideas on how to reinvigorate their classroom with ideas, lessons and other materials.
Working with an international group of teachers and the camaraderie and connections built in the camp were an important part of the experience for both Lyke and Booten. Teachers from the camp share ideas and keep up with each other through a Facebook page.
"I was part of a team of six people from all around the world: the US, UK, Vietnam, Singapore, and Uganda," said Lyke.
"We made connections with teachers from all over the world — Norway, Vietnam and Indonesia. I'm really excited to make these connections with teachers from all over the world.  It was probably the best professional development in my eleven years of teaching," said Booten.