NASHVILLE, TN — Interim Chancellor and Provost Susan R. Wente unveiled five new Vanderbilt Trailblazer portraits to a crowd gathered Oct. 18 in the Mary McClure Taylor Lobby of Kirkland Hall. 
The five portraits honored Kate Lupton, David Williams II, K.C. Potter, Dorothy J. Wingfield Phillips and Muhammad Yunus.
"These Vanderbilt Trailblazers shaped the roadmap through which we can all continue to explore, seek improvements and drive positive change in the world," Wente said. "Through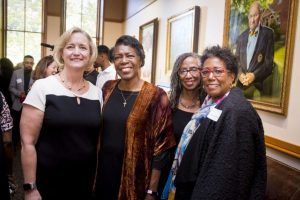 their courage and conviction, they opened doors for others to follow, and, in doing so, they made us a stronger and better university."
Both Phillips and Potter attended the event, as did their friends and families and those of Lupton, Williams and Yunus.
The Vanderbilt Trailblazers initiative recognizes individuals in the Vanderbilt community who have broken barriers and made a positive impact both at the university and in society at large. Established in 2018, the portrait series seeks to expand the visual narrative of Vanderbilt's history and create welcoming, inclusive and accessible spaces with art that recognizes, reflects and celebrates the diversity within the Vanderbilt community.
2019 Vanderbilt Trailblazers include:
Kate Lupton (painted by John Woodrow Kelley), the first woman to graduate from Vanderbilt University. Though Lupton was the first woman to receive a diploma from the university, she was not included in Commencement exercises, and her father, a Vanderbilt professor, presented her with her diploma in private. She went on to become a professor of chemistry and physics at Virginia State Normal School. She died in 1897 at the age of 37.
David Williams II (painted by Simmie Knox), Vanderbilt University's first African American vice chancellor and the first African American athletics director in the Southeastern Conference. He also served as general counsel and secretary of the university. Under Williams' leadership, the Commodores won four NCAA national championships. He also emphasized the need to recognize Vanderbilt's history during the civil rights movement, helping the university to reconcile with the first African American basketball players at Vanderbilt. Williams died on Feb. 8, 2019, at age 71.
K.C. Potter (painted by Jared Small), Vanderbilt dean of residential and judicial affairs, emeritus. Potter served in key administrative capacities at the university until his retirement in 1998, mediating many difficult situations as the campus moved through several transformative decades. In 2008, Euclid House on West Side Row, home of the Office of Lesbian, Gay, Bisexual, Transgender, Queer and Intersex Life, was named in honor of Potter, who supported the LGBTQI community and helped to foster a more inclusive and affirming environment on campus.
Dorothy J. Wingfield Phillips (painted by Donna L. Woodley), the first African American woman to receive an undergraduate degree from Vanderbilt. Phillips graduated from Vanderbilt in 1967 with a bachelor's degree in chemistry, followed by a doctorate in biochemistry from the University of Cincinnati in 1974. She went on to a highly esteemed career at Dow Chemical Company and the Waters Corporation, where she became a global director. A member of the American Chemical Society since 1973, she was elected to its board of directors in 2013 and continues to serve as a director-at-large.
Muhammad Yunus (painted by Sedrick Huckaby), Vanderbilt's first Nobel Peace Prize winner. Yunus received his doctorate in economics in 1971 from Vanderbilt, where he studied after receiving a Fulbright scholarship. In 1976, he launched Grameen Bank, which has become an internationally recognized model for combatting poverty through microlending. The bank has elevated many out of poverty and, as a result of his efforts, Yunus was awarded the 2006 Nobel Peace Prize, the U.S. Presidential Medal of Freedom and the U.S. Congressional Gold Medal.
Last year, Vanderbilt honored Bishop Joseph Johnson, the Rev. James Lawson, the Rev. Walter R. Murray and Perry Wallace with portraits by renowned portrait artist Simmie Knox. This year's portraits depict individuals from various eras of the university's history and were painted by a diverse group of artists, including Jared Small, Donna L. Woodley, John Woodrow Kelley, Sedrick Huckaby and Knox.
The Vanderbilt Trailblazers Committee, which includes students, faculty and staff, oversees the initiative, determines honorees and decides where the depictions of Trailblazers will be permanently housed at the university.