ARTI, Russia — A reckless teenager riding a pit bike without an authorized driver's license on snow-covered roads led the officers on a pursuit to stop him after he realized he was in trouble.
The suspect was a 17-year-old boy, and his name was not released. The boy was spotted riding around in the village of Arti in Russia's Sverdlovsk region at about 4.30 PM on March 20.
Officers patrolling the area signaled the young man to stop for a check-up, but he refused to comply and sped away, leading them into a pursuit.
"Pit bikes are sports equipment and intended exclusively for training and competitions in specially designed areas," a police department spokesperson said. "Their use as a means of transport on public roads is prohibited."
In the dash-cam video, the officers in their patrol car could be seen following the motorist through several snow-covered streets in the area until he loses control and falls over. The young man was lucky to not sustain injuries due to the low speed, as per the police.
"We ask parents to restrict the access of minors who are not allowed to drive," the spokesperson said. "In the case of traffic accidents, the burden of paying compensation and damages is the responsibility of legal representatives."
The police informed the boy was visiting relatives in the area over the weekend and had bought the pit bike with his pocket money.
When he realized he would get in trouble for riding the bike without a proper license, he decided to escape the officers but did not expect them to go after him.
He is now facing administrative protocols for driving without a license and ignoring requests to stop.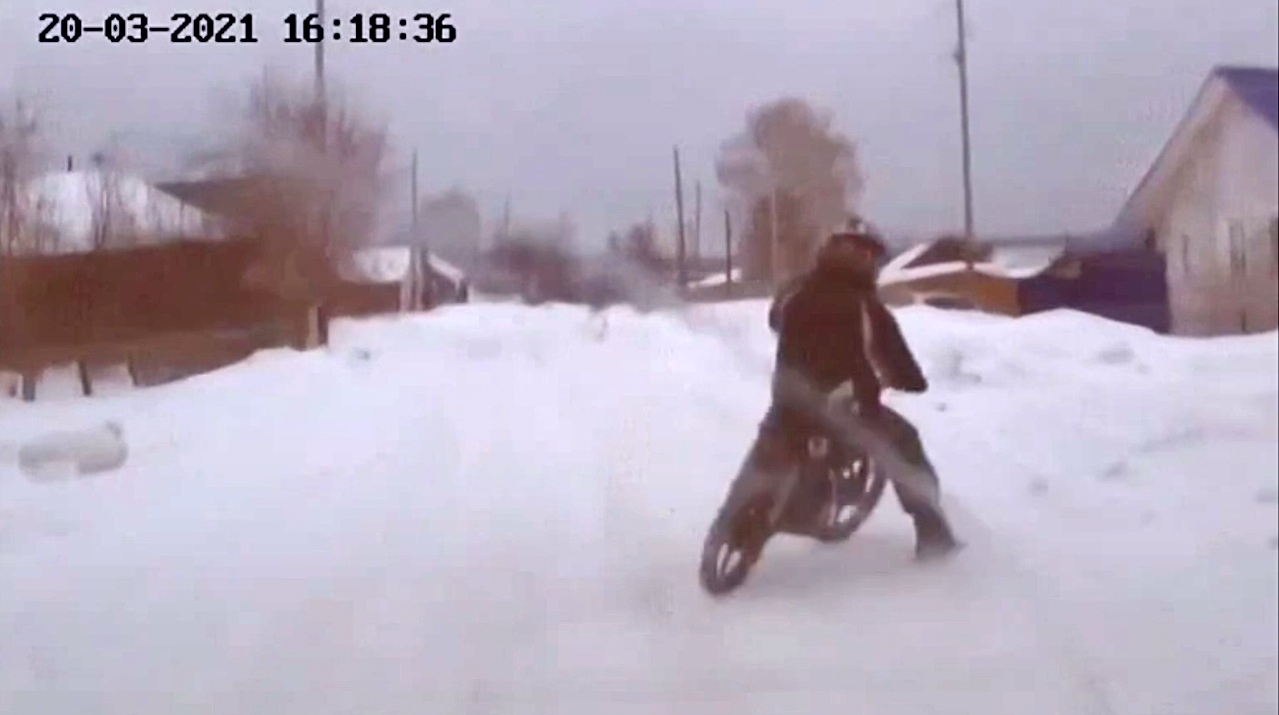 The Global status report on road safety 2013 estimates that more than 26,500 people are killed in road traffic crashes in the Russian Federation every year.
In the U.S., one (4.2 percent) in 25, 9th- through 11th-graders reported they drove at least one hour/week without a license, as per a report on unlicensed teenage drivers in the U.S.
"Unlicensed teenaged drivers were less likely to report seat belt use, more likely to report driving while under the influence of alcohol or drugs, and more likely to report more trips without a purpose," it notes. "One-fourth (28 percent) of them had taken a driver's education class, and one-half (50 percent) reported parents as most helpful in learning to drive. Two-thirds (66 percent) of the unlicensed drivers reported most often using a vehicle that others usually drive."
(Edited by Ojaswin Kathuria and Gaurab Dasgupta)
The post VIDEO: Freezy Rider: Teen Biker Seized After Police Chase Crash In Heavy Snow appeared first on Zenger News.