PURI, India — As the eastern Indian state of Odisha prepares for the Devasnana Purnima, a bathing festival of Hindu deities at Jagannath temple in the state's coastal region of Puri, a youth, Biswajit Nayak, made a miniature statue of the Hindu deity "Gajanana Besha of Lord Jagannath", using 1,475 ice cream sticks.
"It took me 15 days to make this 30-inches tall and 26-inches wide statue," Nayak said. "On the occasion of Devasnana Purnima, I dedicate this to devotees."
Devasnana Purnima, also known as Snana Yatra or the Bathing Celebration, is dedicated to Lord Jagannath, a Hindu deity. It is claimed to be one of Hinduism's oldest festivals. The deity is said to have been born on this day.
The festival is held on the full moon day of the calendar month of Jyestha, which falls between May and June. This festival is also held in all prominent shrines in the state of Odisha at the same time.
Puri has the most elaborate and important festival in the country, attracting thousands of visitors and pilgrims from all across the country each year.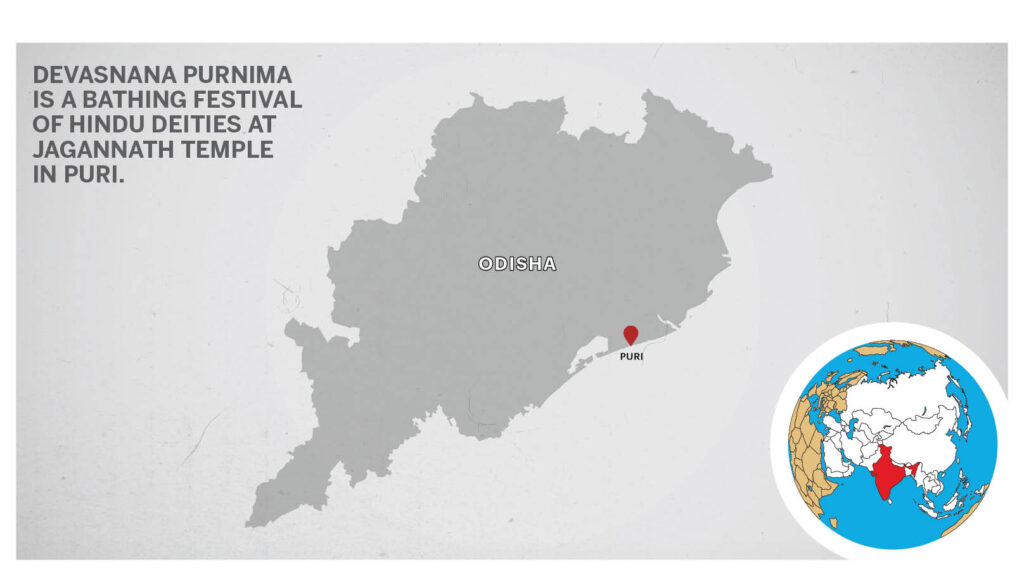 The Jagannath temple in Odisha's Puri was illuminated on June 23 ahead of the Snana Purnima. The gates of the 11th-century temple will open on June 25 after several weeks of closure due to the Covid-19 pandemic-related lockdown.
The bathing festival takes place in the early hours of the morning. After the deities have been seated on a bathing platform, 108 pitchers of holy water drawn from the temple's sacred wells are poured over them. "Jaladhibasa" is the name given to this rite.
The images are clothed in silken robes and then smeared with crimson powder before the bathing ceremony. After that, water is poured, rituals are performed, and devotional songs are sung. After the bath, the deities are adorned so that they resemble the Hindu lord Ganesha.
Due to the pandemic, the day will be observed without the physical presence of thousands of devotees.
"Instead, the festival would be live-streamed for devotees across the world. Only fully vaccinated people with Covid-19 negative reports would be allowed in the temple," said Krishan Kumar, the chief administrator of the Puri temple.
"There will be no gathering outside the temple as Sec 144 will be enforced by the district administration," Kumar said.
"We'll follow traditional rituals. After this, Lord Jagannath will take 'rest' for 15 days and reappear during Rath Yatra."
(With inputs from ANI)
(Edited by Anindita Ghosh and Ojaswin Kathuria. Map by Urvashi Makwana)
The post Youngster Makes Miniature Statue Of A Hindu Deity Using Ice-cream Sticks appeared first on Zenger News.