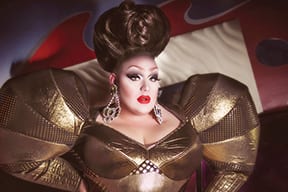 By Janice Malone
JOHNSON CITY, TN — "RuPaul's Drag Race," the fiercest competition on primetime has returned with a historic 10th season. Hosted by Emmy® Award-winning master of everything in the drag world, superstar RuPaul.  Each supersized, 90-minute episode of "RuPaul's Drag Race" gives fans of the show exactly what they want– more fashion, lip-syncs and drag than ever before. The show airs Thursday nights at 8/7c on VH1 and is followed by the popular, Emmy® Award-nominated after-show "RuPaul's Drag Race: Untucked" at 9:30/8:30c, which gives viewers an uncensored, behind-the-scenes look at each episode of the main competition.[G1]  The show documents RuPaul in the search for "America's next drag superstar.
Kameron Michaels and Eureka are two of the contestants on 'Drag Race' who are from the Middle Tennessee area.  Eureka O'Hara, known simply as "Eureka," is the stage name of David Huggard, a drag performer from Johnson City, Tennessee. She is one of the 14 queens who competed on the ninth season of RuPaul's Drag Race. She is also the only queen to ever leave the competition on medical grounds, after getting an ACL injury during a cheerleading challenge in Season 9 of the hit show.  But all wasn't lost because RuPaul gave her an open invitation to return for the tenth season of RuPaul's Drag Race. 
So far, Eureka's won two consecutive maxi-challenges in a row in the current season. Many die-hard fans of the show believe this will be the season Eureka could totally win the title.  
Eureka was in her hometown of Johnson City recently, visiting family and friends. But before she left town, the Tribune asked her 5 Questions about her fabulous whirlwind life as a celebrity contestant on RuPaul's Drag Race.
TRIBUNE: Last season viewers saw the accident that took you out of the competition. Many fans believe that you would have won the competition if not for the injury. How does that make you feel to know that viewers are so in your corner? EUREKA:  It feels amazing and incredible. It really helped me personally during the process of healing and doing my physical therapy. I mean everything happens for a reason so, it made me take better care of myself and even have more confidence that it's still possible. It's been so incredible.  That's why I do this kind of work. I fell in love with doing drag because of the community support and that the voice and the power that I have now. So how incredible it is to feel like people are rooting for me, you know.
TRIBUNE: What is the coolest thing about being from Johnson City, Tennessee? EUREKA: I think the coolest thing is the fact that we do have a small community. Sometimes you can feel a bit hindered by being from a small town because maybe you're not as exposed to as much. But on the other hand, that's what's so special about Johnson City. It's a family town. The L.G.B.T.Q community is especially like family there.  Johnson City has that home-loving, 'God bless your heart' type of people there. It's a loving, caring community if you allow it and you accept it, you know.
TRIBUNE: When you were growing up in Johnson City, did you always know that you wanted to be in show business or did you have aspirations for any other professions? EUREKA: Yes, I mean honestly like when I was younger, I always wanted to do something to make my mom proud of me. I had an audition when I was eleven-years[G4] -old, for one of those big acting school audition things, at the convention center field.  Hundreds of people applied and I was accepted. But we could not afford the school. It was at that point when I just loved the feeling of people cheering me on, so that's when I knew that being in show business was what I wanted to do with my life. I wanted to be on T.V. and in films. I constantly watched films and studied them, and TV shows too. And so now, here I am!
TRIBUNE:  One of the many things that you've done, is to give plus-size women, plus-size people in the L.G.B. T.Q. community, and just-plus size people in general, a positive image. I'm sure that hasn't always been easy for you.  EUREKA:  It's been hard. It's really hard for bigger people out there. It can be depressing, you know. I understand discrimination on a different level than some people. I grew up with Amazonian big women. I was the only boy with two sisters and my mom. She was a single mom. I just had the most amazing example of a plus-size woman that was strong, independent and courageous. I have to say that I owe all of my success to my mom. I love that I can celebrate the woman who raised me, you know.
TRIBUNE: I know that you can't reveal too much but what are some things that we can expect from you as the new season progresses? EUREKA: I felt like I had learned a lot about drag where I came from because that's how I was doing drag. But after watching season 9 of the show, I now have the validation of the fans and the show, and the celebration of just Eureka the character in general. I feel that I have really blossomed into an all-inclusive truly myself character… So for this season, I think it's going to be fun for people to see me, maybe do weird things and do things out of the box that they might not have expected. Fans will see just how much Eureka the character has grown style-wise, in confidence and in personality. I had a rocky start. My own anxiety and the pressure really got to me at first, but once I got through all of that, I think people are going to get to see the Eureka that they wanted to see but also maybe with a little bit more exciting style and flare.