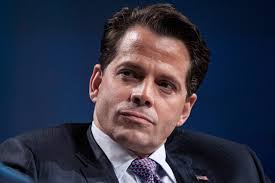 Anthony Scaramucci has resigned from his role as White House communications director, according to ABC and The New York Times.
His rant, published in The New Yorker, was mostly aimed at then-White House chief of staff Reince Priebus. (Priebus resigned from his post last week and was replaced by Gen. John Kelly Monday morning.)
But that wasn't the only eyebrow-raising moment during his 10 days in the White House. Scaramucci brought on criticism after directing comments about hair and makeup at White House press secretary Sarah Huckabee Sanders. He also reportedly received divorce papers from his wife, who gave birth to the couple's son while Scaramucci was with Trump last week.
Even his hire was laden with controversy. Former White House press secretary Sean Spicer reportedly submitted his resignation after learning Trump was giving Scaramucci a prominent role on the White House communications team.
Scaramucci's short tenure followed that of Mike Dubke, who resigned in May after just three months as White House communications director.
Just this morning, Trump assured his Twitter followers there is "No WH chaos!"
For original Article Click Here