By Ms. June
NASHVILLE, TN — In this day and age, masses of women need help from many directions as they battle spiritual warfare by the moment, by the minute and by the day.  Dr. Carolyn Baldwin Tucker published author, was inspired to pen a keepsake for women as a guide to navigate the invisible but painfelt web of spiritual warfare from the chief ambassador of deception that comes to rob, kill steal and destroy.  Her book, "More Inspirational Readings for the Christian Woman: Spiritual Warfare delivers much needed advice and guidance for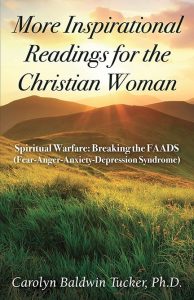 women struggling to get a grip on dealing with anxiety, depression and anger.  As a follow-up from a previous book, Dr. Tucker presents a timely quick read for today's Christian woman and those ladies still on their journey seeking faith, peace and a release from the throes of despair.  Dr. Tucker's book, aptly tackles the deadly vices of what she calls the FAADS (fear, anger, anxiety, depression syndrome).  
"Spiritual Warfare" is not just another surface approach to faith based motivation.  The book addresses negative thought patterns which conflict with basic Christian principles.  Dr. Tucker addresses the aftermath and rebuild of what a woman needs, after she has tried to be everything to everybody being left with an empty shell and ready to give up.  She addresses the pressures of stress and unrealistic expectations that women deal with that cause them to lash out in anger without knowing how to control these outbreaks through prayer, meditation, and a focus on God.  Her realistic approach from a place of experience and love on this topic outlines how faith can conquer fear, thereby, preventing anger and the loss of control from unbridled anger.  The prayerful approach Dr. Tucker recommends is that a woman should pray to the Lord to intervene and help her think through the situation.  Dr. Tucker said, "Too often we find ourselves involved in situations that are negative and then we have the tendency to become angry and anxious thus, beginning the downward spiral that leads to a place of depression."  As one who practices what she preaches, Dr. Tucker strongly abides by the power of prayer and sees it as a refuge for women to maintain emotional control.
As this is Dr. Tucker's second book in a series, the pages of the composition detail her interaction with women over time that caused her to notice that a woman's reaction to situations is often due to not truly knowing the negative forces that are out in the atmosphere.  The purpose of the book is to let all women know that they do not have to be victims but instead they can be victors.  The victory comes the word by reading, understanding and meditating.  According to Dr. Tucker, "If you have time to worry, you need to take that worry time and turn it into meditation time."  Dr. Tucker further states, "This is one of the first steps that will help deal with anxiety."
Each chapter in the carefully structured book reflects truth, the love of God and strength through the power of the word.  Dr. Tucker presents a new way of thinking about Satan and depressed women as she highlights the that fact Satan is the one that causes a woman to believe and think others are against her.  Satan is the enemy and he is the one that attacks a woman's self-confidence.  
Dr. Tucker encourages women not to leave home without their spiritual armor as they stand against lies, deception, and the wickedness of Satan.  This book can be used for all women as a connector and can be used to improve relationships, help women control their emotions, provide Christian development and for Sunday school teachings.  Dr. Tucker closes with affirmation that the "fear, anger, anxiety, depression syndrome" does not have to exist because the chief things a woman must have are the belt of truth, the gospel of peace, the helmet of salvation, the shield of faith, the breastplate of righteousness, and the sword of the spirit; so that when she walks into a room with prayer and this covering, the atmosphere should change and will change.  
Dr. Tuckers book, More Inspirational Readings for the Christian Woman: Spiritual Warfare, can be purchased at the 21st Century Christian Bookstore (located in Nashville) and on Amazon.com.