Central Valley, California – When not enough rain falls, farmers can't grow food because the soil is too dry. Prolonged drought leads to famine and a slow death for millions. East Africa, Central Asia, large parts of India, China, Turkey, and Russia are suffering droughts. So is the American Southwest.
Mexico is heading into the worst months of its dry season. Fifteen of 32 states are experiencing extremely high stress on water resources.
Activists with the Indigenous Caravan for Water and Life argue that it is multinational corporations, often with governmental support, that are responsible for causing climate change, environmental damage and water shortages — rather than the regular dry season.
The Indians of Puebla traveled in a caravan to visit indigenous communities across Mexico each day for the past month. Local communities are confronting megaprojects, where manufacturing, mining, extractive and commercial companies have built massive amounts of infrastructure, such as hydroelectric plants and gas pipelines to plunder the communities of their water and energy resources.
"It's not a drought, it's looting" has been one of the main chants.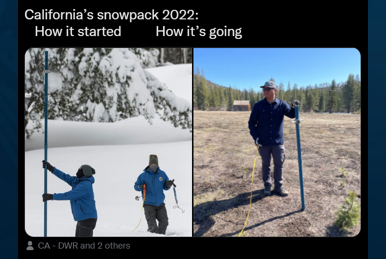 California is in the third year of severe drought. There hasn't been enough snow in the mountains. (See photo). Two big reservoirs, Shasta and Oroville, are at 40% capacity. Many wells in small towns in the Sacramento Valley are bone dry. Big farming operations drill 800 feet down to find the aquifer to pump water to their crops but rural towns don't have the money to do that.
The Pacific Institute is a think tank, based in Oakland, California, with staff around the world. Its mission is to create and advance solutions to the world's most pressing water challenges.
"A lot of our work is nested under the concept of water resilience and climate change," said Heather Cooley, Research Director of the Pacific Institute.
Cooley said a warming planet is forcing water systems to be resilient so that nature and people thrive under shocks, stresses, and change.
"A new study released in February 2022 shows that the past 22 years has been the driest for the Southwestern U.S. for the past 1200 years," Cooley said.
Droughts are longer, more severe, and more widespread due to climate change. "Unfortunately our water systems and our planning do not yet account for this," she said.
California has made progress by reducing water use and developing local water supplies. A number of examples in California are improving efficiency through water reuse and stormwater capture.
The San Francisco Public Utilities Commission requires high-efficiency plumbing fixtures that will save more than 7,700 acre feet by 2045.
Monterey creates 3,700 acre-feet of purified recycled water annually by recycling wastewater and stormwater runoff.
Long Beach has replaced 17,00 square feet of residential grass with sustainable landscapes in low-income neighborhoods.
Fresno's Flood Control District captures more than 48,000 acre-feet every year from 150 retention basins.
The California State Water Resources Control Board is focused on making water conservation a way of life. Providing clean water for human uses and environment protection to sustain California's future is its mission.
"Major conservation legislation follows major droughts. During the last drought (2014-2017) California set mandatory execution targets for the first time in the state's history," said Karina Herrera, Environmental Scientist at the State Water Resources Control Board.
After the drought ended the legislature passed two bills directing suppliers, farmers, and state agencies, to make conservation a way of life in California.
The 2021 drought created very dry conditions in the northern part of the state. That increased the amount of water needed to irrigate the dry soil. Even so, about 400,000 acres were left idle resulting in $1.1 billion in lost revenue and 8,745 fewer farm jobs.
"Droughts are not going away," said Dr. Josue Medellin-Azuara. He is an associate professor at the School of Engineering at UC Merced. "They a recurring event and extreme climate is something we are going to see more frequently and more intensively in the future," he said.
When less surface water is available for agriculture due to drought and ground water regulation more water will be needed in the future. "The dryness in the atmosphere and the soil conditions from previous draughts will further this gap between the water that is available and the water that is needed to grow crops," he said.
Medellin-Azuara said water resilience can be improved in a number of ways
Ground water regulation helps manage water resources sustainably. That is now policy in California.
"Changing crops and using deficit irrigation and idling land can help cope with future droughts," he said. Using natural infrastructures like the aquifer in the Central Valley to store water and land that doesn't have secure water resources to grow crops can be repurposed into natural habitat or solar farms.