By Vivian Shipe
KNOXVILLE, TN — It has been a long time coming. The homeless population had been asking for the life saving vaccinations for a while.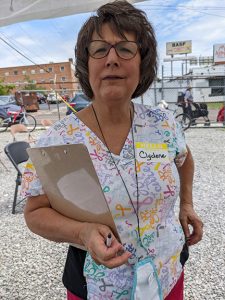 The problem in Knoxville, as around the country has been how to fully vaccinate a group of people who are transient and have no regular address and can not return for a second shot to the same location to totally  protect them from COVID-19. Martha Jane LaRue Baker, owner of Salon LaRue Hair Salon in West Knoxville, as been feeding hundreds and providing clothing the homeless in the north and downtown areas of Knoxville for a long time at her Care Cuts Ministry location. Baker has been advocating for months to get those who have nothing a chance to get the vaccine. The release of the J and J one shot vaccine was the game changer.
Under the guidance and in partnership with the Knox County Health Department, Baker and other partners set up a popup clinic on her downtown lot on a Sunday afternoon of all days. Volunteers came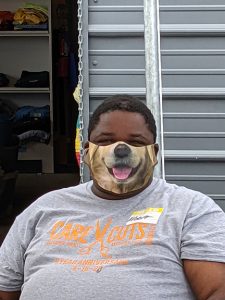 from all over Knoxville. The health department came prepared with 200 doses of J and J, a  doctor, and a full staff of nurses.  They not only gave shots, they helped with wound care of those who showed up with health issues also. Care Cuts Ministry,  as it does every week, gave hair cuts and styles, fed hundreds who came, provided portable showers, fresh clothing and shoes, and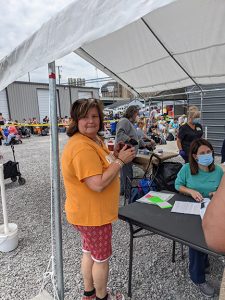 gave resources to get food stamps, rehab, and other services.
Martha Baker smiled victoriously as she zipped from one area to the other, giving out hugs, speaking words of encouragement, making sure everyone had something to eat, making sure they had water and encouraging the timid to get their shots; sending them over the health departments crew who, under the leadership of Annabel Henley, greeted them efficiently and with respect as each person sat down in the folding chair and rolled up their sleeve to receive their "one and done".