By Vivian Shipe
KNOXVILLE, TN — "Today we are collectively focused. Tomorrow we will still care, but we will be distracted UNLESS we intentionally maintain a dual focus on both the 70×24 goal AND the life circumstances of the Class of 2024." were the words spoken by Ronni Chandler, Executive Director, Project GRAD, Knox Education Foundation, as Knox County announced a bold goal: increase the number of students going to college to 70 percent by 2024. Realizing the goal cannot be done in silos, a unique collaboration of leaders has come together to collectively work on a goal that Chandler says in order to be successful, must understand and recognize the unique needs of the students of today.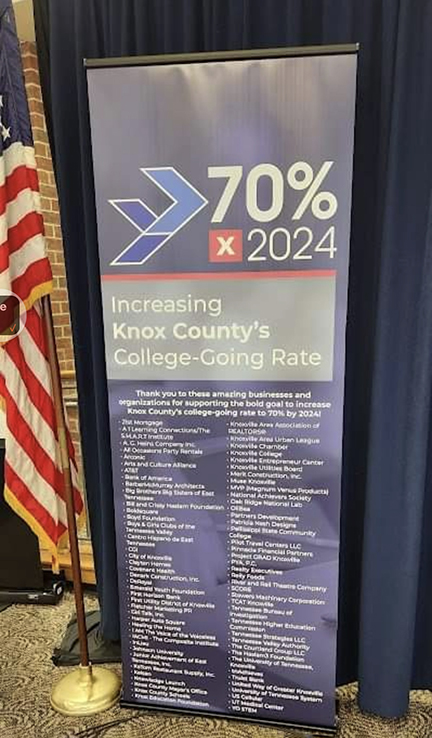 Chandler pointed out the mental health status of the students who she said are suffering PTSD due to issues such as covid, economic recession, community and family violence, drugs, racial tension, food insecurities, transportation issues, witnessing murders in life and primetime, suppressed grief and health disparities that face the Class of 2024 not only Knoxville but around the country.
They are a class like no other before them.
She painted a picture of what Generation "Z" looks like. The Class of 2024 is unique: screens constantly connect them, very social media connected, tech savvy, it's all they have ever known, diverse and more accepting of each other's differences, very opinionated and caring about issues like climate change and homelessness, their mental health is very important as they are a generation born into a time of mass shootings, gun violence, and tensions involving the police, "They don't feel safe anywhere." Chandler said.
The effort to address these and other issues was the basis for the group who came together to announce their willingness to come out of their silos and put the student first with an "out of the box" effort. They are "The Seven": higher education, elected officials, The Chamber of Commerce, the school system, employers, donors, and non-profits. The leaders of each entity spoke on a panel held at Pellissippi State last week about the needs of the future and their willingness to work together.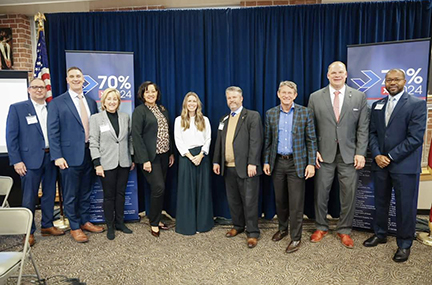 Moderated by Krissy DeAlejandro, Project leader and President/CEO of Tn Achieves, each of the panelist spoke of the need to ensure all students have access to high quality post-secondary opportunities. Those opportunities lie in the two-year, four year, and technical school arenas as Mayor Glen Jacobs joined in with his approval, speaking of the need for career, technical, and trades education and spoke of the academy soon to open in Knox County, confirming the need to re-evaluate what is seen as valuable and defined as higher education. Dr. Keith Gray, UT Medical Hospitals Chief Medical Officer who did the closing remarks, spoke of the needs to come on board with the initiative, announcing he would be signing up that day to be a mentor to students to help achieve the goal.
Also present, along with the seven foundational leaders were representatives from over eighty agencies, nonprofits and community organizations who had also signed up, committed to raising the bar in Knox County, by offering new ways of thinking, and increasing equity and access for all students.
To raise the current bar from 59% to 70% the leaders will use a student first approach and develop a no silos, we are in it together mindset. In keeping with the information about the student profile shared by Chandler, there will be a plan developed to address gaps, the message of what secondary education looks like will change, and there will be a focus shift to increased retention, degree completion, and development of a strong talent pipeline.