NASHVILLE, Tenn. (TSU News Service) – Two Memphis graduating high school seniors accepted into nearly 400 colleges, with combined scholarship awards of close to $19 million, are coming to Tennessee State University.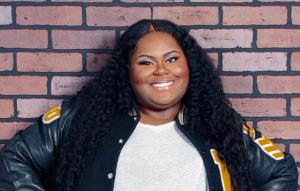 Meaghen Jones and Jayla Woods are from Whitehaven High School. With even grade point averages of 4.2, the two will attend TSU this fall – Jones as a pre-med, and Woods a double major in nutrition and athletic training. Woods' career goal is to develop meal and diet plans for athletes.
TSU President Glenda Glover said it is no surprise that Woods and Jones selected TSU. In 2016, the president announced sweeping changes to raise admission standards to attract the best and brightest students.
Following that announcement, the university launched a number of initiatives, including "Experience TSU" to attract students in four major markets – Atlanta, Birmingham, Memphis and Nashville. Jones and Woods are a result of that effort.
"Tennessee State University is a place with high standards for high achievers," said Glover.  "More and more we continue to attract elite scholars who value the world-class programs and quality education offered here in a caring community of faculty, staff and administrators who are committed to excellence."
Jones was accepted to 213 colleges across the nation and received more than $10 million in scholarship offers. Fellow classmate Woods, who was courted by 160 colleges, received scholarship awards of nearly $9 million.
The two TSU incoming freshmen are part of a tradition of academic achievement at Whitehaven that has received national attention. Since the school launched "Academic Signing Day" several years ago to highlight classroom achievement, Whitehaven's seniors have garnered huge sums in scholarships from schools across the nation.
In a teary statement before a cheering crowd, Jones announced that she has settled on TSU.
"My name is Meaghen Jones, and first I would like to thank God and my parents, my family, my friends and all who have supported me throughout my life," she said. "My final choice for college is Tennessee State University, where I will be continuing my education in fall 2018."
For Woods, coming to TSU is no accident.
"I have always wanted to attend an HBCU," said Woods. "I want to do a double major in nutrition and athletic training, and TSU will let me do that."
In addition, Woods said she is a "huge" fan of the Tennessee Titans. Her cousin currently plays for the team.
As high achieving students, Jones and Woods plan to be a part of the Honors College at TSU.