By Austin Newell
NASHVILLE, TN — Last Saturday, Fisk University unveiled its newest building, the Roland Parrish Career Planning and Development Center.
The two-story building aims to provide students of the Historically Black University with better career opportunities. It was funded by and named after Roland Parish, CEO of Parrish Restaurants.
Parrish is no stranger to philanthropy. Previously the CEO gave $2 million to renovate a library at Purdue University, of which he is an alumni. Parrish also aided in the construction of a medical clinic in Fort Portal, Uganda, which he named after his parents, John and Marie Parrish.
What makes the Roland Parrish Career Planning and Development Center especially notable, however, is its status as being the first new building constructed for Fisk in 50 years.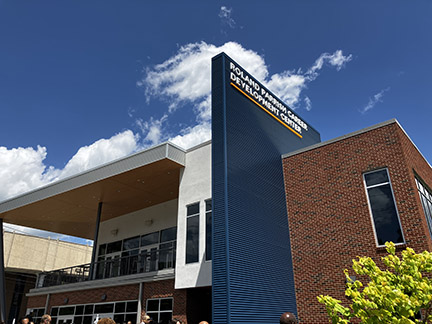 The building was described as a "launch pad" by Nashville Mayor John Cooper at the unveiling ceremony.
Indeed, the Career Planning center is not the only project in the works at Fisk. According to Interim President of Fisk University Frank Sims, the university is also currently working on a new 300-bed dormitory targeted for operation in 2025, as well as a new science building and container dorms which are opening in June.
"We're really pleased about this because this is exactly what our students deserve and everything we do here we do it thinking about what's best for our students," said Sims. "I invite all of you to come back to Fisk University in three to five years and I think you're gonna be even more amazed than you are today at the things we're doing to revitalize this campus."
Shortly after Sim's remarks, those in attendance at the ceremony gathered outside for the ribbon cutting. With its severance comes not only a brand new building, but also a symbol for a proposed new era of investment for Nashville's oldest university.