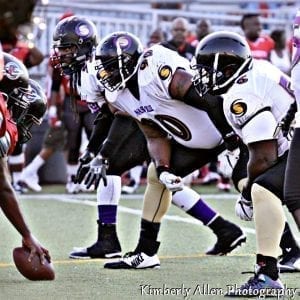 Nashville's defensive front is giving opposing defenses a hard time.
NASHVILLE- Football fans love to see scoring. In this era, rules are set up for the offense to make big plays and light up the scoreboard. Somebody may want to give the Nashville Storm defense the memo. After giving up 27 points in the first game of the season, the unit has given up a total of 20 in the past four games. In three of their five games, they have held teams to minus yards rushing.
"We have always prided ourselves on having a great defense," said defense coordinator Chauncey Smiley. That first game ticked a lot of the veterans off. We tried a few young guys and they didn't produce. Now we are finding a groove. These guys are fun to watch."
The defense is especially strong on the front line. The middle is anchored by 6'6 390-pound veteran Danny Roberson and Darius McDonald. The duo has accounted for 55 tackles and seven sacks on the season. Bookend defensive ends Fred Sparkman and Steven Turner uses their speed to get to ball carriers. All season, the quartet have made opposing offensive coordinators scratch their heads. After games they have been going to the players showing respect.
"A couple of times coaches have told me that their players have let them know it isn't easy blocking us," said Roberson. "Darius and I have one job. Make the interior a train wreck. When you have guys like Fred and Turner outside, it makes our job easier. You can't double and triple team all of us."
The play of the line has made the linebackers free to roam more. Last week against the Huntsville Rockets, they only blitzed a few times. Rookie linebacker Tacola Seay is the second leading tackler on the team. Mychal Hendricks recorded a season-high 15 tackles against the Rockets. Stopping the run and pressuring the passer gets results. The scoreboard lately is an indication of how tough the line is.
"Those dudes make my job a whole lot easier," said Hendricks. "I can't remember the last time that I had to fight off a block. Our linebackers need to take the line out to dinner. I for one appreciate them. I am glad they are on my side."