NASHVILLE, TN — Stanley M. Bergman, chairman of the board and CEO of Henry Schein, Inc., worldwide leader in health care products and services for office-based medical practitioners and dentists, will be the featured speaker for the 144th Commencement of Meharry Medical College.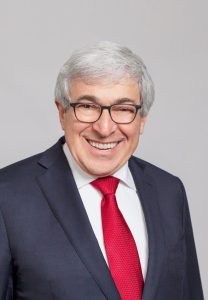 Bergman's address will be a centerpiece of the event, to be held at the Grand Ole Opry House from 9 am to noon on Saturday, May 18, 2019, sending forth graduates in medicine, dentistry, biomedical research and public health, and scholars in health policy.
Bergman sits at the head of a global company with more than 19,000 Team Schein Members and has operations or affiliates in 31 countries. Henry Schein, Inc. is a Fortune 500® company and member of both the S&P 500® and Nasdaq 100® indexes. The Company's sales from continuing operations reached $9.4 billion in 2018, and have grown at a compound annual rate of approximately 13 percent since Henry Schein became a public company in 1995. Henry Schein, Inc. is a major supporter of the Meharry Medical College School of Dentistry, underwriting the development of the college's Graduate Practice Residency dental clinic in 2012 and 2013 as well as many other substantial gifts. Bergman and wife, Marion, and their family are active supporters of organizations fostering the arts, higher education, cultural diversity and grassroots health care and sustainable entrepreneurial economic development initiatives in the United States, Africa and other developing regions of the world.
Meharry Medical College founded in 1876, is the nation's largest private, independent historically black academic health sciences center dedicated solely to educating minority and other health professionals. True to its heritage, it is a United Methodist Church related institution. The College is particularly well known for its uniquely nurturing, highly effective educational programs; emerging preeminence in health disparities research; culturally sensitive, evidence-based health services and significant contribution to the diversity of the nation's health professions workforce. Diverse Issues in Higher Education's ranking of institutions annually lists Meharry as a leading national educator of African Americans with M.D. and D.D.S. degrees and Ph.D. degrees in the biomedical sciences. 
Visit www.mmc.edu to learn more.