By Lucas Johnson
NASHVILLE, TN (TSU News Service) — Tennessee State University health sciences students and public health experts are doing their part to bring awareness to the vaping problem that's sweeping the nation.
Students majoring in cardio respiratory care offered free screenings last week on campus and talked about the dangers of vaping and use of tobacco, which health experts say can lead to cardiovascular disease.
The screenings and awareness are expected to continue monthly, on campus and in the community.
"I have friends that vape, and I tell them how horrible it is for them," says Koheen Babily, a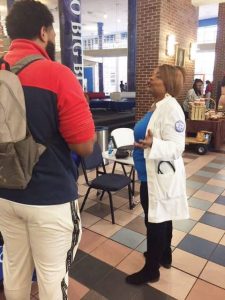 junior from Nashville who plans to be a respiratory therapist. "It's bad for the lungs. I see 16-year-olds vaping, and they don't realize the damage they're doing that will affect them when they're older."
According to the Tennessee Department of Health, two Tennesseans have died from a vaping-related lung illness. So far, the state has had more than 50 reports of vaping-associated respiratory illness. Nationally, the Centers for Disease Control reports 33 people have died from vap- ing-related lung illnesses. TSU experts say one way to address the problem is through regulation.
"Regulation is the key to oftentimes controlling the severity of the problem," says Dr. Wendelyn Inman, associate
professor and interim MPH program director at Tennessee State. "When we're looking at vaping, we're looking at safety issues of the mechanisms of the vaping machinery."
Brenda Batts, assistant professor and director of clinical education at TSU, agrees. 
"The concern has always been that it's not regulated, it's never been regulated, so a lot of times people don't know what chemicals are actually in the liquids that they're inhaling," says Batts.
The screenings provided by Batts and her students include checking for hypertension, a cardiovascular problem.
"Vaping can cause damage to the lungs, which in turn damages the heart, which leads to hypertension and heart failure," adds Batts.
E-cigarettes vaporize a flavored liquid rather than burning tobacco. With every inhalation, a sensor triggers a vaporizer to heat a small amount of liquid flavoring. The liquid turns to vapor and is drawn into the user's mouth.
KaBria Kirkham, a junior majoring in cardio respiratory care, recently wrote an article on vaping. She says it's important to educate people so that they understand the components of vaping and the harm certain additives can cause.
"It's important to know what's in it," says Kirkham, of Springfield, Illinois. "They shouldn't be able to sell vaping pins anywhere until they find out exactly what it is that's harming people."
The CDC has not identified a cause of the illnesses, though it says 78 percent of patients reported using THC-containing products in the three months before their symptoms developed.
The agency has advised people to stop vaping products that contain THC oil and other additives like Vitamin E acetate, which has been repeatedly connected to the illness outbreak.
At least seven states have banned vaping. The Tennessee Medical Association says it supports a ban of the vaping products, but would prefer policies that require more extensive examination of what's causing the vaping illnesses and deaths.
To learn more about electronic cigarettes, visit https://www.cdc.gov/tobacco/basic_information/e-cigarettes/index.htm.
For more information on TSU's College of Health Sciences, visit https://www.tnstate.edu/health_sciences/.