By Vivian Shipe
KNOXVILLE, TN —Beck Cultutal Center held a day long Juneteenth celebration in memory of the day the slaves were freed in America – one of America's little recognized or celebrated Black History facts.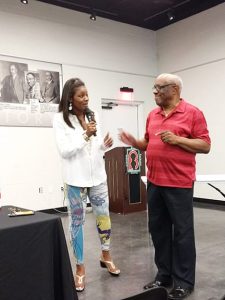 Under the direction of Director Reverend Renee  Kessler, at the Beck, the  day  IS celebrated  in Knoxville. After a day of activities, the evening closed with  an historic panel of Knoxvilles Black Leadership, the first such representation on these levels ever held in the city of Knoxville.
The leadership panel : representing state legislation, city council,  county commission, and the  school board, took time to explain what the duties of their office entailed and also their vision for the community.
The panel sat before a crowded room for two hours and patiently answered questions. Some of the questions raised were about school board issues, the reopening of Knoxville College, how monies are distributed by the government, lack of minorities on city and county boards, lack of Black teachers, the need for affordable insurance, and charter schools.
The program was moderated by community activist and former NAACP president, Dewey Roberts. The panel made themselves available for questions after the program and promised to hold another town hall meeting in the near future.