By Emmanuel Freeman
NASHVILLE, TN (TSU News Service) — Tennessee State University is making the most of a $50,000 Home Depot Retool Your School grant it received last spring.
On Nov. 15, a large production crew from Home Depot spent the day on the TSU main campus recording student volunteers as they mulched, power washed and installed electrical fixtures in the university amphitheater, the McWherter Circle, and the exterior of the Floyd-Payne Campus Center. The film crew also interviewed TSU President Glenda Glover, and several current and former students, as well as staff and administrators about the benefit of the Retool Your School campaign.
"Retool Your School means so much to us and we are very much appreciative to Home Depot," Glover said. "The need to just fix the school up is a high priority, but funding is not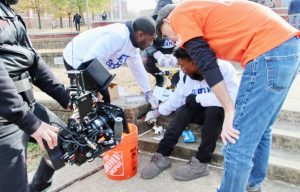 readily available,  as we are busy trying to get money for academic programs and to ensure that buildings are right for the students. Retool your school has allowed our campus to fix some of the broken and neglected areas. The students are really excited.  They volunteered to work. They want to make their campus look beautiful."
Tennessee State University received  "Campaign of the Year" honors in Home Depot's Retool Your School HBCU Campus Improvement competition in the spring. This was the first year for the award, which was created to celebrate the 10th anniversary of the Retool Your School program.  TSU beat out 60 other institutions for the award.
"We are extremely proud to have won this top honor for Campaign of the Year, and are just as proud of our students, staff and alumni that mobilized efforts for TSU to have such a strong showing to get the entire university family involved," Glover added.
Dwight Oliver, a senior political science major from Memphis, and Desire Wynn, a freshman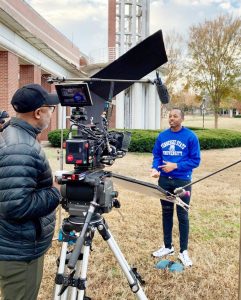 majoring in dental hygiene, were two of the many student volunteers who mulched plants in the McWherter Circle and helped to pressure wash the amphitheater. They were thankful to Home Depot for the funding and for helping to give their campus a facelift.
"This was an amazing experience for me to be involved in helping to make my campus look beautiful," said Oliver, who also works for Home Depot at the company's One Hundred Oaks location. "Just to see that my company cares about the community that I live in and go to school in was very touching, and makes me want to give back as an alumnus."
For Wynn, the Cincinnati, Ohio, native was glad to see her school as a top winner in the Retool Your School campaign, and her fellow students' willingness to "help clean up our campus."
"As soon as I heard what this was all about, I jumped in and was happy to see many students joining in," Wynn said. "Retool Your School is a wonderful idea."
Marquisia Taylor, project manager of multicultural marketing for Home Depot, was on hand with a team of company executives and workers to make a special presentation to President Glover.
"I am so happy to be here and to congratulate Tennessee State University for being a 2019-2020 Retool Your School grant recipient," she said. "We just want to continue to support HBCUs by providing funds to help them reinvigorate their campuses and to create something new and exciting that the student body, alums, staff and everyone who is a supporter can rally around. We also congratulate President Glover for her leadership."
Since 2009, the Retool Your School Program has provided over $2.1 million in campus improvement grants that allow HBCUs to make sustainable improvements to their campuses.
For more information on enrollment at TSU, go to https://www.tnstate.edu/emss/