By Sandra Long Weaver,
Tribune Editorial Director
A survivor of the 2018 Antioch Waffle House shooting was among those honored June 8 during the annual Healthy Family Day Celebration sponsored by the Minerva Foundation in partnership with the Nashville Alumnae chapter of Delta Sigma Theta Sorority, Inc.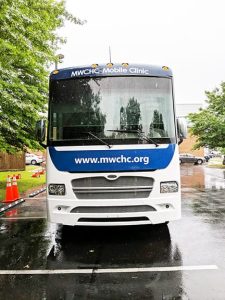 In addition, the Matthew Walker Comprehensive Health Center launched its new mobile unit and provided free dental screenings during the event.
Sharita Henderson, who was seriously injured during the shooting in which four lives were lost, was named an Overcomer Awardee. She has made remarkable strides and continues to recover. 
Christion Abercrombie, a Tennessee State University (TSU) Football middle linebacker, who has defeated the odds following a major brain trauma during the TSU vs. Vanderbilt game in September 2018 was also named an Overcomer Awardee.
Two local authors were named Mental Health Heroes. Dacari J. Middlebrooks, author of The Depressed Millennial: Surviving Unmet Expectations, alumnus of Morehouse College and Vanderbilt University, and member of Kappa Alpha Psi Fraternity, Inc., who currently serves as creative director for Mount Zion Anywhere (Virtual Campus of Mount Zion Baptist Church of Nashville, TN) as well as branding and marketing consultant for the Full Gospel Baptist Church Fellowship was honored. 
The second awardee was Sheila Jones Mays, author of Hold On: Erasing the Stigma of Mental Illness, and member of the TennCare Select Behavior Health Advisory Committee.
Over 200 people participated in the four-hour annual event at the Rose Park Middle School where Nashville Mayor David Brillley was a speaker.
Matthew Walker wants to extend its services into communities that may have a challenge getting access to health care, said Katina Beard, CEO of the health center of the mobile unit's debut at the event. "We wanted to have more visibility in the communities," she said.
"Having a mobile unit would meet both of those needs and get us into other communities that didn't know about us and provide a service."
Beard said the center had been discussing the possibility of having a mobile unit for the last five or six years. "And when the funding became available, we had a choice to use it to purchase or improve the brick and mortar facility or extend into communities that don't know about to us. We choice the latter."
The unit, which has three exam areas, cost $338,000 and was paid for through grants and funding from the health center, Beard said. In addition to dental screenings, the unit will also provide primary care and behavioral health services.
The mobile unit will make its Clarksville debut on June 23 during the annual Women of Clarksville event which starts at 2 p.m." Sometimes health care has to come to your front door," Beard said. 
"Transportation can sometimes be a challenge, especially in rural communities," she added. "We really want to make sure reach underserved communities. We expect to be out in communities that don't have a health center directly serving the population."
For more information about the mobile unit coming to your community, call 615-324-9678.