By Janice Malone
NASHVILLE, TN — It's been a whirlwind last seven days for country music singer/song Kane Brown. Last Friday, Kane previewed his brand-new album EXPERIMENT, to the media and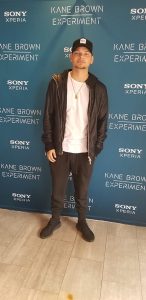 select fans, on the rooftop of the beautiful Bobby Hotel in downtown Nashville. As an extra treat, fans listened to the entire album on Xperia Ear Duo headphones. 
Not only will you be among the first to listen to Kane's entire new album on the new Sony Xperia Ear Duo. These earphones offer a true wireless experience. You can enjoy music, make calls, listen to your schedule, forecasts, and more—all while being able to hear your surroundings. The weather was a bit nippy on the rooftop but things heated up when the man of the hour himself, Kane, greeted fans and media, thanking everyone for attending his listening party. "We really worked our tails off on this album for about a full year," Kane tells the crowd. "We did a lot of experimenting (with the music) and I hope that everyone likes the album as much as I do. I'm a man of few words." (he laughs)…But the album is very diverse with different styles of music. Hey, it's a good album." Kane graciously signed autographs and photo-ops with the fans. 
Brown's Experiment album is the follow-up to his multi-week chart-topping Platinum-certified RCA Nashville/Zone 4 debut album KANE BROWN. His latest features 12 tracks, 11 of which the young singer co-wrote,  including his Top 5 airplay and streaming hit "Lose It." 
Kane was recently awarded three 2018 American Music Awards for Favorite Male Artist – Country, Favorite Album – Country for his Platinum-certified multi-week #1 self-titled debut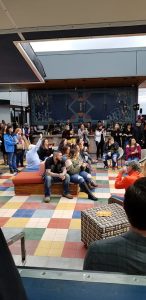 release and Favorite Song – Country for the Double-Platinum multi-week #1 smash "Heaven." He made history as the country star with the most award wins in one night for a first-time nominee and was the most-nominated artist in this year's AMA Country categories. 
The next few days are will be busy for Mr. Brown. He's been in New York City making the national TV talk show rounds for both daytime and late-night shows–"The Voice" (Nov. 13) and the "Jimmy Kimmel LIVE" Outdoor Stage (Nov. 14) following the CMA Awards. And the news gets even better. Additionally, the 25-year old singer-songwriter performed his first-ever sold-out headlining performance as part of the Budweiser One Night Only Concert Series at the Hulu Theater at Madison Square Garden on November 7.