Washington, DC – The First Tee of Greater Washington, DC is sending Lauren Artis to compete in the 2017 PURE Insurance Championship, an official PGA TOUR Champions event to be contested at Pebble Beach Golf Links and Poppy Hills Golf Course in Pebble Beach, Calif., the week of September 19-24, 2017. The tournament, which is hosted by the Monterey Peninsula Foundation, will be televised internationally on Golf Channel.
After the 2016 tournament, the PGA TOUR and Privilege Underwriters Reciprocal Exchange (PURE) Insurance announced an agreement making the policyholder-owned property & casualty insurer for high net worth families the title sponsor of the longstanding event, which dates back to 2004.
"We have been anticipating this day since PURE was announced as title sponsor of this prestigious event," said Ross Buchmueller, President & CEO of the PURE Group of Insurance Companies. "This tournament has the ability to impact the lives of youth throughout The First Tee, and we are thrilled to serve an integral part in the PGA TOUR's mission of creating a strong community footprint while also helping to grow this great game."
Artis will join 80 other participants from The First Tee chapters, selected by a national panel of judges. Participants were selected based on playing ability and comprehension of the life skills and core values learned through their involvement with The First Tee. The juniors will be teamed with 81 PGA TOUR Champions players and 162 amateurs as they compete for the pro-junior title at Pebble Beach and Poppy Hills. As of June 28, players currently committed to compete in the PURE Insurance Championship include World Golf Hall of Fame members Tom Watson and Colin Montgomerie, as well as three-time tournament winner Jeff Sluman and defending champion Paul Broadhurst. Players have until Friday, September 8 to commit, with additional commitments to be announced in the comingmonths.
Artis, 15, is a rising junior at Elizabeth Seton High School where she is a member of the golf team.  Earlier this year, she won the Maryland State Junior Girl's Championship in the 14-15 yr. old division, shooting a career low 69. When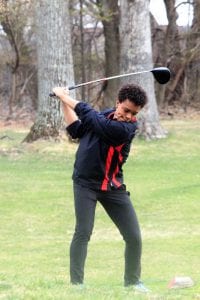 she is not golfing she is a member of Theresa Banks Swim Club and volunteers at a local food bank.
Artis learned she was selected to play by PGA Tour Golfer, Wyndham Clark.  Her reaction aired on Golf Channel during Morning Drive's PURE Insurance Championship Ann
ouncement show.
"Lauren has worked really hard on her golf skills and her life skills to get to this point.  She set a personal goal of competing in this event and it is wonderful for her to see her perseverance and hard work pay off", said Clint Sanchez, The First Tee of Greater Washington, DC Executive Director.  "We are especially happy that she will share this opportunity with her parents which is something that was very important to Lauren.  We could not be happier for her!"
"The opportunity to play in the Pure Insurance Championship at Pebble Beach, has opened my eyes to the many possibilities that golf could provide for me in the future." Said Artis "I am deeply humbled for the chance to participate in this event!"
The First Tee of Greater Washington, DC is one of 155 chapters around the country and in select international locations. Serving the Greater Washington, DC area since 1999, more than 100,000 young people have been impacted through chapter programs and The First Tee National School Program, which is in 160 elementary schools throughout DC, Northern Virginia, and Montgomery County, MD. The golf-based programs are focused on building character through The First Tee Nine Core Values: honesty, integrity, sportsmanship,
respect, confidence, responsibility, perseverance, courtesy, and judgment.
To learn more about The First Tee of Greater Washington, DC, visit www.thefirstteedc.org. For more information on the 2017 PURE Insurance Championship, visit
www.pureinsurancechampionship.com. For more information on Lauren Artis, to request an interview or photos, please contact Clint Sanchez, csanchez@thefirstteedc.org.