By Clint Confehr
COLUMBIA, TN — Blacks breaking the color barrier in the U.S. Marine Corps thrived after strict training and overcame racism in the military since the 1940s and through Vietnam.
Paco Havard, immediate past-president of the NAACP Branch here in Maury County, a Marine, retired UAW GM employee and son of an honored U.S. Marine, explained that Montford Point is mostly a swampy part of Marine Corps Base Camp Lejeune, N.C., where basic training was conducted for African American Marines.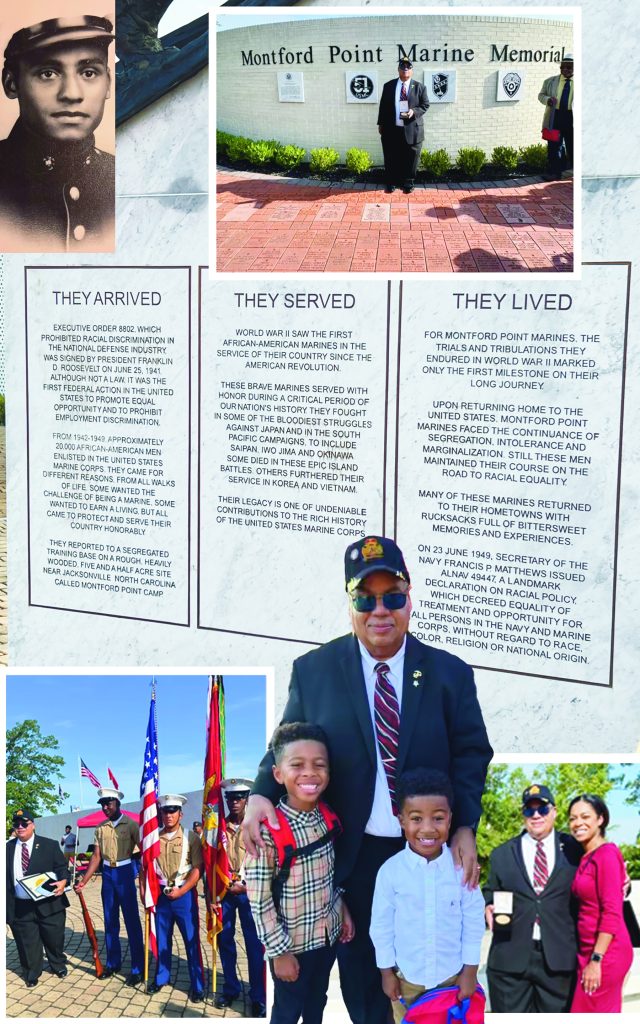 They started by pitching tents in the '40s. Barracks were segregated.
Among those honored as Montford Point Marines was Private First Class Sylvester Havard of Detroit, according to records from his son. Pfc. Havard died of old age at 80 in 2004. Recently, he and other Montford Point veterans were distinguished at Camp LeJune where their Congressional Gold Star status was awarded posthumously.
Development of Camp Lejeune's 153,439 acres and 14 miles of ocean beach was authorized by Congress in May 1941, eight months before Pearl Harbor was attacked that December. In June 1941, President Roosevelt ordered an end to discrimination in the defense industry. World War II saw the first African American Marines in military service.
"They fought in some of the bloodiest struggles against Japan," the Montford Point Marines Monument states. They fought in Saipan, Iwo Jima, Okinawa, Korea and Vietnam. "Upon returning home," the monument states, they "faced the continuance of segregation, intolerance and marginalization" and "maintained their course on the road to racial equality."
It's a poignant reminder of the "Columbia Race Riot" in national headlines during 1946 after Blacks protected their businesses from whites reacting to a Black sailor's defense of his mother against mistreatment by a radio repair shop clerk.
In 2012, President Obama signed legislation authorizing one Congressional Gold Medal to collectively honor the Montford Point Marines. This year, the Montford Point Marine Association listed Pfc. Havard as among the first African Americans to be U.S. Marines. He served in 1942-'49. Bronze duplicates of the gold medal are available to relatives. The Congressional Gold Medal is the highest civilian honor bestowed by Congress for distinguished achievement. Memorialized by words in stone; Montford Point Marines inspired social change in the Corps and America.
Paco Havard says research by his daughter, Shawnda Havard-Parker, a defense attorney in Houston, revealed her grandfather's eligibility. It led to family attendance at the 14th Annual Montford Point Marines Day and Congressional Medal Ceremony late last month at LeJeune Memorial Gardens in Jacksonville, N.C.
Montford Point Marine instructors were hard on the recruits "because they knew they had to prove they could fight," Havard said. His father was a radar operator on a Pacific island. "That's how I could see where his interest in electronics came from because he studied electronics after he went into the Marines," Havard said, recalling conversations with his father while in junior high school. Sylvester told him "about guard duty and carrying a Thompson submachine gun instead of an M-1 rifle."
Paco's brother, Juan, was a Marine Raider in Vietnam. Paco signed delayed enlistment papers on his 18th birthday before graduating from Detroit's Cass Technical High School in June 1975. In April 1975, President Ford declared the Vietnam war over. A year later, Paco was on Parris Island for recruit training.
Now, he's serving community in various ways and realizing how he's like his father. Harvard moved to Maury County because of the Saturn auto assembly plant in Spring Hill where electric Cadillacs are now manufactured.