NASHVILLE, TN — Thousands of clergy from Tennessee and around the nation, volunteers from major gun safety organizations and impacted leaders marched into the Tennessee State House Monday with Bishop William Barber, forcing the House to abandon a vote on a controversial bill to arm teachers.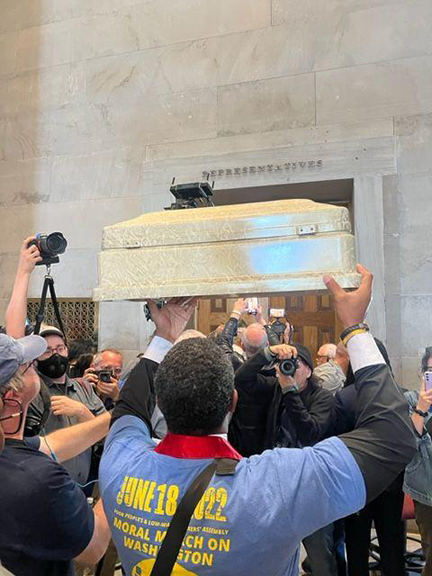 With a packed gallery full of clergy, impacted people and gun safety advocates, HB 1202, which would make it easier to arm teachers, was tabled and taken off the calendar moments before it was scheduled for a vote.
"We're winning, we're winning," Bishop Barber said to a crowd in the rotunda after the vote was abandoned. "Today you focused on the issues and called out policy murder and showed them this religious, moral, advocate, impacted people coalition. They saw us and said 'ain't no way in heaven we're going to do this today.' Now we know the lesson: stay here."
The Moral Monday gathering began with a rally in a packed McKendree United Methodist Church. Participants then marched to the state Capitol to demand lifesaving gun safety legislation and an end to extremists in state legislatures trampling over democracy.
Young people and clergy in vestments carrying caskets, including a child-size one, led the blocks-long march from the church to the Tennessee Capitol, carrying signs that read "We deserve to feel safe in schools," "Protect Kids Not Guns," and "Firearms are the leading cause of death for American children and teens." At the Capitol, participants packed the plaza to hear from Bishop Barber, local and national clergy and those impacted directly by gun violence, putting a face to the pain of policy violence.
"The same people who block gun laws block health care, the same people who block health care block living wages, the same people who block living wages block voting rights," said Bishop Barber from the steps in front of the Capitol. "We cannot accept this policy violence anymore. We must call it what it is: sin. When we stand together on the front lines, if there are enough of us, they can't stop us."
Volunteers with Everytown for Gun Safety, Moms Demand Action and Students Demand Action joined in the march, and people directly impacted by gun violence spoke to the crowd.
"Third graders saw the dead bodies of their friends, their classmates. They sat in those rooms shielded by teachers with bullets flying over them. The trauma is not going to dissipate," said Sarah Neumann, a mom whose son survived the recent shooting at Covenant School. "I have worked in pediatric oncology and I have not heard screams worse than that day."
Student leaders from the Vanderbilt University chapter of Students Demand Action excoriated lawmakers, who instead of advancing life-saving gun safety legislation are Monday voting on a bill, HB 1202, that would make it easier to arm teachers.
"While students are being told to run, hide and fight, the so-called solutions our lawmakers are making are to put more guns in people's hands," said Helena Spigner, a Students Demand Action volunteer from Vanderbilt. "It's time lawmakers did their jobs and listened to voices screaming for change."
Before marching into the Statehouse, the crowd chanted, "All over the South, We're coming for the House."
The crowd then filed into the Capitol, where the program continued in the rotunda. Bishop Barber and Rep. Justin Jones accompanied the child-size casket to the door of the legislative chamber. Speakers called for an end to policy violence and sang freedom songs while Bishop Barber and supporters filed into the session. Hundreds of protesters filled the chamber's balconies while the House debated various bills for hours.
As legislators left the chamber after the vote on HB 1202 was abandoned, participants sang, "Ain't Gonna Let Nobody Turn Us Around" and "This Little Light of Mine" and chanted, "More guns More Death, Tell the Truth," "Policy Murder," and "Whose House? Our House!"